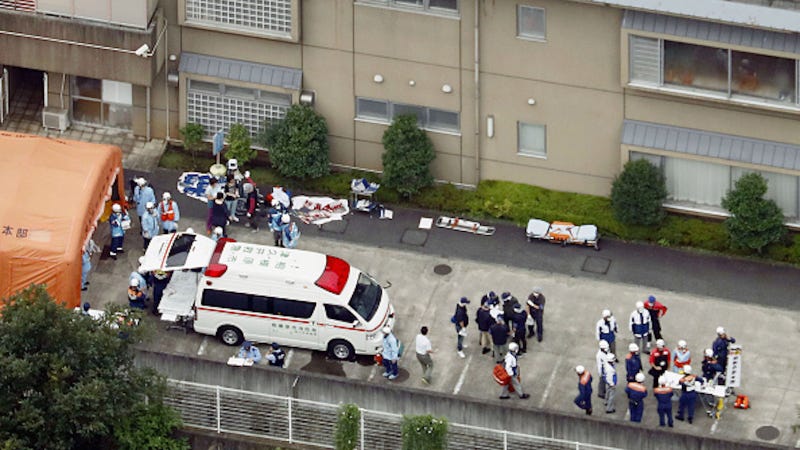 Early Tuesday morning, a man attacked residents of the Tsukui Yamayuri-En disability facility in Sagamihara, Kanagawa Prefecture, Japan, killing at least 19 and wounding approximately 25.
On Monday, November 16, CBS originally planned to air episodes of Supergirl and NCIS: Los Angeles that tackled terrorist-related subject matter. Seeing as this material would be jarring, to say the least, after the attacks in Paris and Beirut, the episodes have been swapped for more innocuous ones.
Breaking news reports from Paris are indicating that multiple people have been injured and killed in what appears to have been a simultaneous attack on a restaurant, an area near a stadium, and a concert hall.
At this mile marker along the long and sinuous road to the White House and Capitol Hill, the Republican party's election jalopy is starting to show signs of strain. Most of its tires are out of air. Its windshield is so caked with splattered bugs that no one can see out of it and no one will use the Devil's mechanical…

Egypt's military rulers continue carry out a brutal crackdown on protesters in Cairo. Fighting has been ongoing for the last several days, and more than 300 people have been injured and at least nine people have been killed. In a shocking scene yesterday, troops viciously attacked a crowd of protesters—in one case…
Amanda Seyfried recently told a magazine that she has panic attacks and gets therapy. She's one of the few to admit that being a Hollywood actress is pretty hard on the psyche — and to be open about treatment. And while we wouldn't wish mental health issues on any individual, there's an upside for society at large.
On February 7, an angry, drunk, and possibly insane British woman stabbed her boyfriend in the eye with her stiletto heel. It punctured his socket and entered his brain, causing a blood vessel to burst. Weirdly, this has happened before.
Islamic militants continue to work to keep girls in Afghanistan from getting an education. In the past two weeks, there have been three separate attacks using poison, sending over 100 girls to the hospital.