Y/N is a guide to the week's music releases based on our highly scientific, non-subjective Yes/No rating system.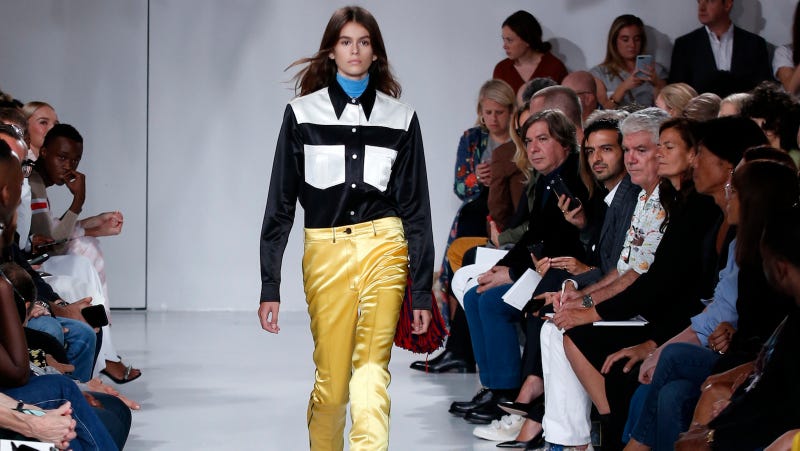 I feel pretty confident saying that most cowboys don't wear turtlenecks, but who even makes the rules? For Calvin Klein's latest, Raf Simons envisioned flossy drugstore cowboys as channeled through '80s new wave—something like the cowboys and poodles aesthetic but for Insta sophisticates—to encapsulate his vision for…
For a brief day and a half the world thought it had rid itself of the romance between a grown man who pronounces his name like a baby and a teen with a mansion. We were not so lucky.
Your younger brother's third-favorite designer Jeremy Scott is finally receiving a documentary about his life and debut line for Moschino, and it's filled with his celebrity followers—Katy Perry, Miley Cyrus, A$AP Rocky, Rita Ora, 2NE1's CL—effusing on the type of genius that dreams up putting two-foot wings on Adidas…
A$AP Rocky's new track "L$D" is pretty far outside his previously established oeuvre—he's sung on tracks before, but this is something of a weeded torch ballad, a deeply contemplative and poetic track from the guy who once wrote an entire song around namedropping popular and obscure fashion labels. ("Fashion Killa,"…
Scarlett Johansson is officially engaged to Frenchman and too-hot-to-be-a-journalist journalist Romain Dauriac, her rep confirms. "They're very happy... they haven't chosen a date for the wedding." After faking us out numerous times this past year with non-nuptial diamond rings, her actual engagement ring is "a…
Miley Cyrus took a cue from the Linda Blair Playbook during her "Blurred Lines" duet with Robin Thicke — who was dressed like a natty member of a 1920s chain gang, incidentally — at the MTV VMAs last night. Specifically, she danced with some life-sized teddy bears, took off her furry teddy (get it?) to reveal nude…
Celebrity execs and personal handlers at this year's Grammys have been ordered to keep Taylor Swift and Carrie Underwood far away from each other during Sunday's awards ceremony so they don't scratch each others' eyes out or something. Not only are the two both tributaries from District Blonde-Country-Crossover who…
Because Kanye West is Kanye West, it is absolutely unsurprising that he would tell the 5,000+ crowd at Atlantic City's Revel Resort about the impending Kimyelet without Kim Kardashian's knowledge, let alone her approval. The two hadn't discussed when they would tell the public, and Kim wanted to wait until she began…
After fifteen years of marriage (and a fair amount of that spent in couples therapy, apparently), two of the final standing members of the Un-Divorced Hollywood Old Guard, Antonio Banderas and Melanie Griffith, might be almost ready to call it quits. This spring, Banderas was seen getting all up on another woman at a…