There's a chance Obama could be making a future appearance on the show Black-ish. Anthony Anderson told E! he was petitioning for the president and first lady to guest star. "They watch the show. They love it. We know them so we've been dealing with them and their people and hopefully they'll say yes." Anderson found…
In an episode that graciously skated around party politics, Wednesday night's Black-ish took on the notion of the rare Black Republican. The problematic issue at hand: Junior joining the Young Republicans Club.
On ABC's hit series Black-ish, about an extended upper-middle-class family going through typical suburban family motions with a gimlet eye towards race, characters have an incredible sense of style that sets the tone for the show. Colors are bright, styles are simultaneously nuanced and over the top, while the…
On Wednesday night, Black-ish aired its requisite Christmas episode, the fall finale, which featured Andre (Anthony Anderson) campaigning to be the first Black Santa for his annual office party. One of the show's simple, burdensome tasks as a Black family sitcom that also directly tackles race is to merely succeed. In…
Wednesday night's episode of Black-ish opened with Trick Daddy's "I'm A Thug." This was a great and special thing. As Trick Daddy's street socio-political anthem plays in the background, Anthony Anderson's character Andre does a voiceover rant about the importance of Black ownership: "Credit hasn't always been the…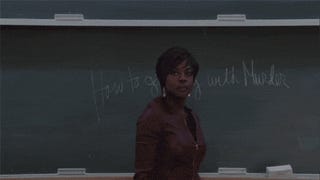 There will be enough Viola Davis, Anthony Anderson and Tracee Ellis Ross to go around at least until May sweeps, as both Black-ish and the Shonda Rhimes-produced How to Get Away with Murder have been been ordered for full seasons by ABC. Like Annalise Keating, I am glowering at an invisible camera in celebration.