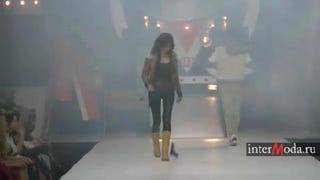 This clip from the Shiyan & Rudkovskaya show at Moscow Fashion Week does not say much for ex-spy Anna Chapman's weaponry skills, but I do like the way she tries to play her fumble off by sexily blowing on the muzzle of her gun. Also, if you want to see pics of Chapman "sexily" pointing the gun at a male model, the …
Anna Chapman can add actress to her bizarre resume after playing herself in a parody of a popular Soviet spy film. The spoof ran during New Year's programming on Russia's state-controlled TV network and portrayed Chapman as a patriot.
Lindsay Lohan has already found a pharmacist willing to fill her prescriptions — which include Adderall and Ambien — while she is incarcerated. Michael Lohan, and some mysterious "friends" say it's the prescription drugs that caused all Lindsay's problems. [TMZ]
Although Anna Chapman was deported back to Russia, Steve Hirsch—president of adult entertainment company Vivid—has sent a letter to her lawyer, extending an offer to make a feature (link NSFW) with Chapman.
In good news for wordsmiths at the New York Post, who had officially run out of Bond film puns, there's a new twist to the Anna Chapman story: she had the hots for the princes royal:
Anna Chapman's ex-husband has these fond memories of boinking her on an airplane: "Anya was wearing a denim dress, so I hitched it up and we just went for it. It was fantastic because of the thrill of doing it on a plane."
When alleged Russian spy Anna Chapman's Facebook photos broke, she went from threat to national security to sexy "bombshell." If she plays her cards right, she can ride her "femme fatale" image right to the bank.