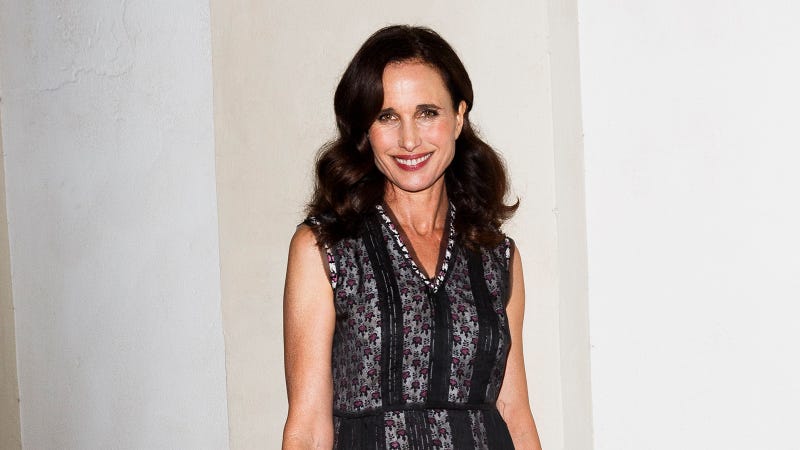 Andie MacDowell, star of Sex Lies and Videotape, Groundhog Day, and (on occasion) the "tourist class" section of commercial airliners, loves to tweet. Her favorite categories of tweets include signal boosts for shelter animals in need of homes, inspirational quotes, and links to articles bashing Donald Trump.…
That '70s- set TV show based on the biography of Ford Models founder Eileen Ford is still in the works at ABC, and Andie MacDowell has just been cast as the star.
Andie MacDowell is furious, perhaps for the first time in her life. Though she booked a first class ticket for her American Airlines flight Friday afternoon, the actress was moved to coach (she calls this "tourist class") because of her dog. Or something. I don't know what happened, exactly, because her twitter feed…
Last night at the Seventh Annual Women of Worth Awards in New York, celebs gathered to "celebrate everyday women who are making a beautiful difference in the world." And sure, L'Oréal Paris recognizes these women for their extraordinary efforts and supports these inspiring women through grants but this is a fashion…
SAINT PETERSBURG, RUSSIA - June 17: Actress Andie MacDowell shows gratitude as musical director and conductor Valery Gergiev, winners of Montblanc New Voices at Stars of the White Nights Event 2011 Mikhail Petrenko and Sergei Semishkur bow after performing during the Montblanc New Voices Award 2011- Montblanc Gala…
I think we're all due for some long-overdue, vengeance-seeking, law-be-damned, estrogen-fueled Lifetime action. And so we bring you...the premiere of Lifetime Original Movie Patricia Cornwell's The Front at NYC's Hearst Tower. (And, obviously, Judith Light was there.)
In the summer of 1981, a young British stylist who'd worked at Harper's Bazaar and Savvy landed at New York Magazine. Her job was fashion editor; her name was Anna Wintour. Peep that staff portrait!
Kate Moss and Beth Ditto performed an "impromptu duet" at a club last night — singing "Space Oddity" by David Bowie. Guess who thought they did a great job? Simon Cowell. [The Sun]
And then there were seven?!?! Angelina Jolie reportedly told one of the Slumdog kids that she is planning to adopt an Indian orphan. The papers will surely turn this into a race with Madonna. [Telegraph]
It's time for another installment of Pot Psychology, the advice column in which everyone's problems are solved with an "herbal" remedy. (As always: Don't do drugs!) It was my pleasure to get baked with my brother of another mother, Rich, and attempt to tackle issues like "accidental virginity", personal hygiene, and…