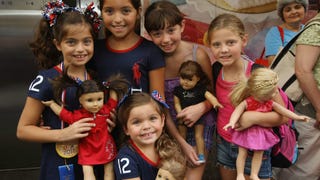 "This place is three floors? Oh my God," a wide-eyed dad let slip after taking a quick pic of his gleeful daughter. "Holy cow," he added a moment later, still unable to process what he'd gotten himself into. Clearly someone had not been properly prepared for the sublime majesty of the Fifth Avenue American Girl…
Sales of Barbie dolls are down 12% as parents ditch Barbie for more realistic, "full-figured" dolls—possibly due to the modern movement toward not hating yourself. Success! The only problem is, the most popular alternatives to Barbie are either extremely expensive gingham extortion rackets (American Girls) or…
A few weeks ago, an unsolicited American Girl Doll catalog arrived in my mailbox, featuring what I found to be fairly ground-breaking accessories: A hearing aid; an allergy-free lunch, a wheelchair. While researching how long these options had been around, I stumbled into a rabbit-hole-esque YouTube phenomenon: The…
To tie in with the Met's upcoming Costume Intitute show, Vogue produced an editorial (allegedly) offering modern takes on classic American fashion. Vogue calls them "historic archetypes of our national style." We call them reductive stereotypes of bygone ages.
For those of you who aren't familiar with the New York Post's Andrea Peyser, she is a very furious person who, today, turned the force of her rage on the latest American Girl Doll - a topical doll:
The new American Girl, WWI-era Lower-East-Side-dwelling Jewish doll Rebecca Rubin, unfortunately has the same name as a serial arsonist wanted by the F.B.I. "We feel confident that people will clearly see this as nothing more than what it is - an unrelated coincidence," says a spokeswoman. [NYT]
R.I.P. American Girls original, Samantha Parkington. May you rest in peace with the other overpriced, historically accurate plastic toys in the sky.