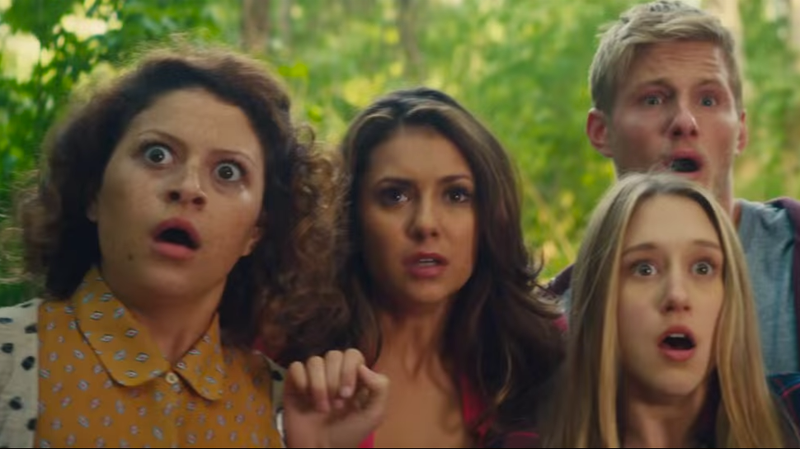 The concept of "the Final Girl" was conceived by Carol Clover in her 1992 book, Men, Women, and Chainsaws: Gender in the Modern Horror Film. Clover describes the "last girl standing" in horror movies as sharing similar characteristics such as being virginal and having a gender-neutral name, examples of whom include…
With the recent onslaught of haunted house/murderous family movies (I like them, but there's way too many), The Final Girls, an upcoming horror-comedy directed by Todd Strauss-Schulson, will be an interesting, and welcome change. American Horror Story's Taissa Farmiga plays Max, a teenager who, along with some pals,…
The music video for Best Coast's new track, "Our Deal," is directed by Drew Barrymore, and features a slew of young stars acting like street toughs. A la Romeo and Juliet or West Side Story, Chloe Moretz of Kick Ass and Tyler Posey of Teen Wolf are star-crossed lovers from rival gangs; iCarly's Miranda Cosgrove is uh,…
Penelope Cruz and Javier Bardem — who played a volatile couple in Vicky Cristina Barcelona — had an intimate wedding earlier this month that we're only hearing about just now.
The new single from a singer named Lola is actually a track by Jennifer Lopez.
Real life BFFs ("we text") and Whip It! stars Ellen Page and Alia Shawkat talk about leeches, feeling sorry for the guys on the set of Whip It!, and their interesting movie choice on a recent trip to (wink) Amsterdam.