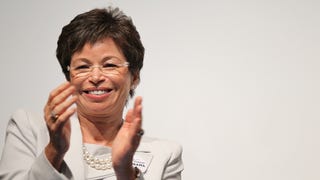 Last month, the unemployment rate among black people fell more than half a percentage point, entirely thanks to job market gains by black women. There are a few bad joke conclusions to draw from this — first, we could Jack Welch it by saying that the black women became employed in large numbers as a deliberate,…
"My hair is called an Afro," says Isis Brantley in the video above. The Dallas hairdresser hasn't cut her hair since she was 12 years old. She says it was that hair that led her to be chased down by a TSA guard and subjected to an extra patdown. The TSA claims she left before the full inspection was completed.
The publication of parts of Rosa Parks' archive, specifically a letter in which she describes an attempted rape by her employer, has angered members of the Institute she founded. Parks wrote of the encounter, "I was trapped and helpless. I was hurt and sickened through with anger and disgust." (Previously it was…
By now, everyone in the country with access to a television, the internet or a book store has gotten the memo that black women marry at a dismally low rate compared to women of other races.
When it comes to reality shows featuring black women (and some men), VH1 is "trading trampiness for fabulousness," with shows devoted to the lives of "seemingly well-adjusted rich and famous black Americans," according to the AP. Let's examine, shall we?
1. White men are only consolation prizes. 2. Reference Something New. 3. Mention all her friends are doing it. 4. Ignore all other ethnicities/races. 5. Reinforce the only alternative is to die alone. [Washington Post]
• One English woman grew out her underarm hair to see how people would react. Let's just say they made her feel like the pits (sorry). •
Michelle Obama: What's not to love? She's smart, accomplished, funny, a great mother and a snazzy dresser. But as Newsweek's Allison Samuels points out, compared to other black women in the media, there's something different about Michelle Obama. For instance: Why don't we see Michelle snappin' her neck and waggin'…
We all have varying experiences when traveling abroad, depending on our background, nationality, and even our race. That is why the website U Go Gurl has created the travel essay book, Go Girl. The book is made up of collected travel essays from prominent African American female writers (Maya Angelou, Alice Walker and…
Essence magazine has announced plans to re-launch Essence.com and make it a daily destination for African-American women 18 to 49 years old. Two media units of Time Warner are teaming up with the 38-year-old magazine: Warner Brothers Television Group (Extra) and Telepictures Productions (The Tyra Banks Show). The…