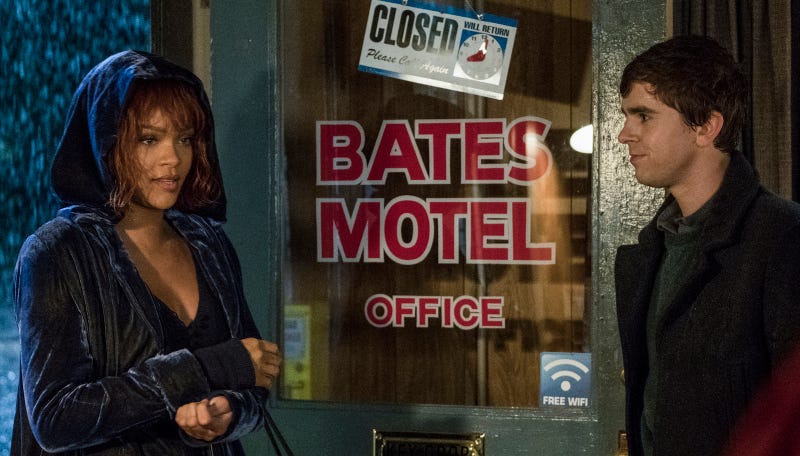 The fifth season of A&E's Psycho spin-off Bates Motel begins February 20, and its storyline is finally getting into canon we all know, love, and are terrified by: Norma Bates (Vera Farmiga) is but a stuffed corpse while Norman Bates (Freddie Highmore) is spiraling deeper and deeper into his delusions. Most…
I didn't know this, but now I do, and so you must too: Jenny and Donnie McCarthy's show on A&E Donnie Loves Jenny made it past one season, and is now on its third. Furthermore: Jenny McCarthy has changed her last name to Wahlberg, and gotten multiple tattoos in honor of her husband, with whom she has gotten even more…
In an effort to better the world, A&E is airing a concert special about race in America, featuring several of your favorite musicians and Ed Sheeran. As part of this honest conversation about race, Nicki Minaj read a Maya Angelou poem during the concert's taping on Wednesday night.
On Thursday, A&E aired Cosby: The Women Speak, a collection of interviews with the alleged sexual assault victims of comedian Bill Cosby. To watch the over a dozen women recount what happened to them was sobering and harrowing, not to mention likely empowering for them, because they are finally being heard.
The show you didn't want, the show you actually pleaded A&E not to make, the show you're screaming about right now, Donnie Loves Jenny, premieres tonight. In anticipation, the network has released some ads making Donnie Wahlberg and Jenny McCarthy look as though they're on the cover of some old romance novels. No. No.…
This Duck Dynasty fracas isn't over yet. According to the Daily Mail, a petition calling for the reinstatement of patriarch Phil Robertson (plus a formal apology from A&E) has gathered over 250,ooo signatures.
Let's us here talk about Duck Dynasty, but first, let's ask ourselves why any of us were surprised, much less outraged, that a bunch of sketchoid Christian duck hunters in Louisiana who could pass as ZZ Top stand-ins have homophobic or deeply ignorant racist views. I mean really, it's like you've never seen rednecks…
The show known as the classier and more realistic version of Celebrity Rehab with Dr. Drew has been cancelled by A&E before the start of its 13th season, executives announced Thursday. This would probably be an inappropriate time to make a joke about addicts of the show trying to figure out where to get their fix now,…
According to TMZ and this site, Mark Balelo, one of the rascally figures who makes A&E's Storage Wars so entertaining, killed himself by carbon monoxide poisoning on Sunday night.
No advertisers or sponsors complained about The Kennedys miniseries, but sources say Caroline Kennedy and Maria Shriver lobbied executives to pull the series from the History Channel. Both are working on projects for the network's parent company.