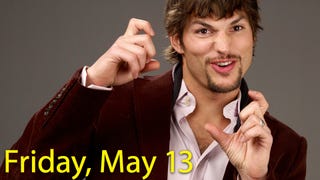 It's funny, you almost forget that Ashton Kutcher — Mr. Demi Moore, professional Twitter enthusiast and camera commercial attention-hog — is also an actor. But he is! He fauxbanged Natalie Portman in that friends with benefits movie that was not called Friends With Benefits! He was on that bell-bottoms show! Which…
The series, that is. NBC passed on the pilot, by David E. Kelley and starring Adrianne Palicki. The buzzmill sawed this one in half when those costume pictures hit the streets. Palicki dodged a bullet! How Wonder Woman-y of her.
[Looks a little less American Apparel and more musical theater! Yup, Adrianne Palicki has started filming. Click to enlarge. Hollywood, March 29. Image via WENN.]
When we heard that Adrianne Palicki would be the new Wonder Woman, we got excited: The Friday Night Lights actress is 5'11" and ran track in high school, like any self-respecting future superhero should. The David E. Kelley/NBC pilot doesn't have an official greenlight yet, but Entertainment Weekly has the first image…
Meet Adrianne Palicki. She's your new Wonder Woman! Friday Night Lights fans may recognize her as Tyra; she was also in Supernatural. Palicki ran track in high school and is 5'11", so we're thinking she will make a pretty good superhero.