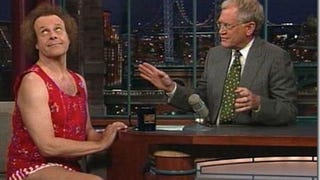 A big New York Times story on the ratings declines of late-night network variety shows says, of David Letterman, that "some of his biggest advocates have suggested that it might be time for him to consider stepping away before his legacy is tarnished" by bad ratings, the worst he's ever seen. Not mentioned in the…
Silvio Berlusconi will stand trial on April 6, charged with sex with an underage prostitute and abuse of power. He's still claiming he's innocent — and, somewhat bizarrely, the comparisons to Julian Assange have begun.
Two more women have come forward to accuse sexting DA Kenneth Kratz of inappropriate behavior — and one says he has a pattern of victimizing women "who are extremely vulnerable to his authority."
Carl Spicocchi's a lucky guy. He kidnapped, beat, threatened and tried to kill his now former mistress in Arlington last year (his wife was back home in Toledo at the time) and was sentenced this week in Arlington County Court. Although his victim was still too scared to appear at the sentencing, Circuit Court Judge…