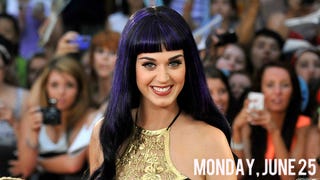 Katy Perry — now dating Ghostbuster Dan Florence + The Machine guitarist Robert Aykroyd — is taking a break from showbiz after her doc Katy Perry: Part Of Me is released, in order to let her heart and/or cupcake boobs heal after Aldous Snow poured Malibu rum all over them and devoured them en flambé. If she spends…
Yesterday Josh Duhamel was escorted off a plane by U.S. Airways employees after he ignored three requests to turn off his Blackberry before takeoff. Another passenger says he was "very rude" and was "taunting the attendant."
Is Jon Gosselin trying to look bad? He's returned the two family dogs to the breeder. "Jon blames Kate for having to give up the dogs," says a source. "Of course, these days Jon blames Kate for just about everything."
Though Jon Gosselin's rumored new girlfriend, Kate Major, left her job at Star due to "falling for" the father of Plus 8, Gosselin says his "heart is always with Hailey," meaning his other rumored girlfriend, Hailey Glassman. Ouch! [USWeekly]
Fergie, or as I like to call her, "Stacy Ferguson from Kids Incorporated," married her boyfriend Josh Duhamel yesterday in a private ceremony in Malibu, "under magnolia trees filled with thousands of white roses." [People]
Full House star Jodie Sweetin, who recently turned her life around after a trip down Child-Star-Turned-Meth-Addict lane, is divorcing her husband of 16 months, Cody Herpin. Herpin, who Sweetin credits with helping her in her recovery process, claims he is "dumbfounded" by the divorce and is worried about the couple's…