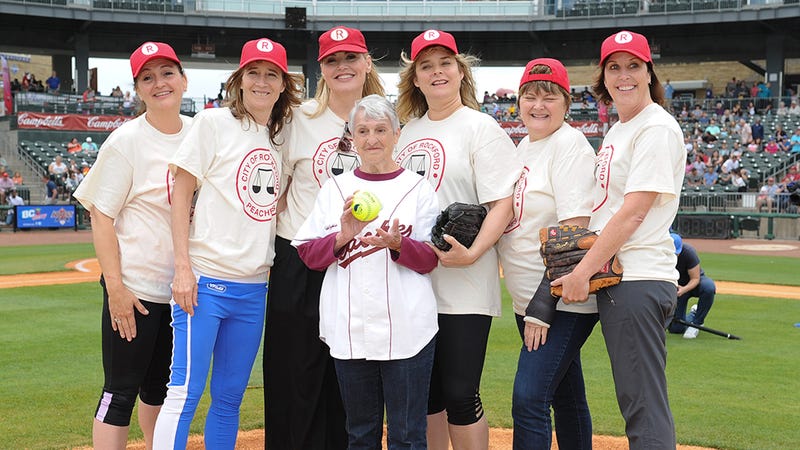 The time has come for one all to playyyyyy ball.
Contrary to what Jimmy Dugan says, an abbreviated little league career taught me that there most definitely is a lot of crying to be had in baseball (Probably not among these women, though).
Madonna thought the legendary photographer was angry at her, maybe "because I'm still nice to Herb Ritts??" She was making A League Of Their Own at the time, and wrote about how much she hated actresses — particularly Geena Davis:
"I cannot suffer any more than I have in the past month...I'm dirty all day, and I hardly ever wear make up," Madonna wrote Steven Meisel while shooting A League Of Their Own. We're all lucky she stuck it out.
Writes Judy Berman in Salon, "Although women's bodies can do incredible, unique things of their own (childbirth, anyone?), men seem to have a biological advantage when it comes to feats of strength and speed." But of course it's more complicated:
Dottie Collins, a star pitcher in women's professional baseball in the 1940s, died Tuesday in Fort Wayne, Indiana. She was 84. In the summer of 1948, she pitched until she was four months pregnant. Ms. Collins won more than 20 games in each of her first four seasons and threw 17 shutouts. Memorabilia from her…
Cool dad, cool Halloween costume: "In an age when young girls are taught to use their bodies for showing off or are offered costumes designed to illustrate what they look like instead of what they can do, my daughter was going to learn about using a body for fielding, for hitting, for throwing out a runner at home…