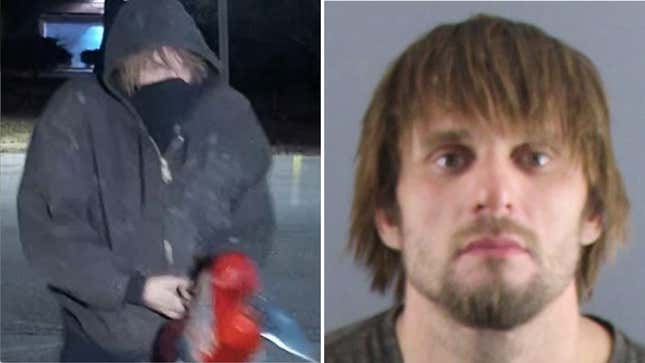 Police arrested a suspect Tuesday in the recent firebombing of a Planned Parenthood clinic in Illinois, and the man told investigators that he was motivated in part by being upset that his ex-girlfriend had an abortion rather than having a child with him.

Per a press release from the Department of Justice, the suspect is 32-year-old Tyler Massengill, who was caught on surveillance cameras walking up to a Peoria, Illinois, Planned Parenthood on January 15 holding a laundry detergent-sized bottle with a rag in it. He lit the rag on fire, smashed a window, then put the bottle inside the building before fleeing. The fire caused about $150,000 in damage, and the clinic may not reopen for several months.
Massengill initially denied setting the fire before he told the FBI that, about three years ago, he was in a relationship with someone in Peoria who got pregnant and then told him by phone that she got an abortion, which upset him, according to the criminal complaint filed in U.S. District Court. He said that he "heard or saw something" around January 15 that reminded him about the abortion, which angered him. (It's not clear what reminded Massengill of the abortion, but on January 13, Illinois Gov. J.B. Pritzker (D) signed an abortion rights bill into law that protects people traveling to the state for abortions and protects the medical licenses of healthcare providers who provide care in Illinois that may be illegal in other states.) Massengill also said that if the fire caused even "a little delay" in people getting care at the clinic, his crimes may have been "all worth it."
He now faces federal arson charges. If he's convicted, Massengill would face a mandatory minimum sentence of five years in prison and could get up to 40 years. The charges also carry up to three years of supervised release and a potential fine of up to $250,000.
G/O Media may get a commission
25% Off
Coleman SaluSpa Inflatable Hot Tub Spa
His white pickup truck with at least one red door was captured on surveillance footage near the clinic, and a tipster told law enforcement that she had his truck in her garage about 25 miles away since the day after the fire. Massengill had apparently asked the woman to keep the truck there and arranged for her to paint the doors white for $300. The FBI seized the truck on Monday, and he turned himself in a day later.
The New York Times reports that Massengill previously served prison time for burglary and pleaded guilty to aggravated assault in March 2022.