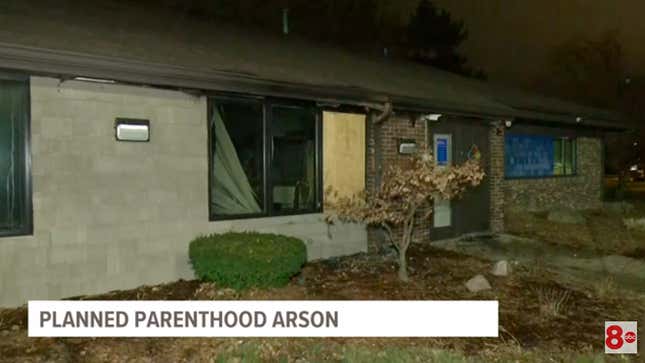 Someone threw a molotov cocktail into a Planned Parenthood health center in Peoria, Illinois, around 11:30 p.m. on Sunday night, which set the clinic aflame, according to the Associated Press. The fire is being investigated as arson and Peoria police are asking for the public's help in finding a pickup truck caught on surveillance footage in the area. They have not yet identified the suspect.

Red Tape and Sexism Have Kept Abortions From Being Provided at OBGYN Offices
Planned Parenthood of Illinois president and CEO Jennifer Welch said the fire caused "significant" damage to the building and estimated it would cost $150,000 to repair, NPR Illinois reported.
The arson came two days after Illinois Gov. J.B. Pritzker (D) signed an abortion rights bill into law that protects people traveling to the state for abortions or gender-affirming healthcare. The legislation he signed Friday also protects the medical licenses of Illinois healthcare providers who provide care that's legal in Illinois but may be illegal in other states.
As the bill Pritzker signed indicates, Illinois is a crucial access state after the Supreme Court overturned Roe v. Wade, and may be the closest state with abortion protections for people in much of the Southeast. Planned Parenthood of Illinois told the Associated Press that, while Roe stood, about 6 percent of their patients came from out of state, but that's since shot up to 30 percent. Following the arson, patients have one fewer clinic to go to (at least for the time being). The organization told the AP that while the clinic is closed, it's rescheduling appointments at other health centers and offering transportation help to people who need it.
The Peoria clinic doesn't even do abortions on-site—though it does prescribe abortion pills that people take at home—but that doesn't matter to radical anti-abortion activists who want to target every possible aspect of abortion care.
Welch said in a statement: "Senseless acts of vandalism have been on the rise across the country and Illinois has become a target as extreme and divisive rhetoric increases."
This arson is another example of why Republicans' recent efforts to condemn violence only at anti-abortion pregnancy centers—but not actual abortion clinics—ignores the real problem. Clinic violence increased significantly from 2020 from 2021, and anti-abortion radicals have murdered at least 10 abortion providers, security guards and staff members and volunteers since 1993. But please, do go on about how dangerous a spray painted message outside an anti-abortion crisis pregnancy center is.