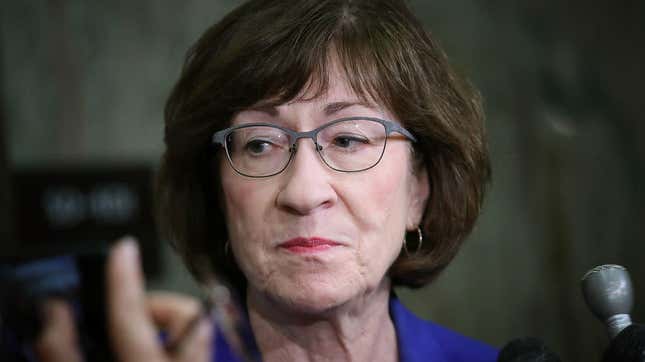 Last year, Maine Senator Susan Collins said she didn't "think most of us had any idea how pervasive the problem of sexual assault is" immediately after voting to give alleged sexual assailant Brett Kavanaugh a lifetime appointment to the Supreme Court. Now, she is awfully bummed that there are ramifications for her words and actions.

Collins, who has accepted at least $32,000 in donations from Kavanaugh supporters since his appointment, recently told Politico that she is "sad" that those who do not agree with her decision to support Kavanaugh will most likely use their votes to voice that dissent:
"Have I lost some votes because of my decision to support Justice Kavanaugh? Yes, I have. And I'm sad about that because I explained in great depth my decision-making," Collins said. But "there still is an appreciation in Maine for someone who looks at the facts of an issue, votes with integrity and independence."
Her explanation of that decision-making was claiming to be "alarmed and disturbed" by dissenters, including those who shared stories of their own sexual assaults outside her office, she believed were being unfair to Kavanaugh. In the days after going back on her promise to voters that she would not support a Supreme Court candidate who "would demonstrate hostility to Roe v. Wade," Collins also insinuated that those same voters were perhaps being a little bit hysterical, lecturing "we must always remember it is when passions are most inflamed that fairness is most in jeopardy."
Meanwhile, Republican party leaders seem prepared to let the chips fall where they may regarding Collins now that they've gotten their man:
"We're paying a lot of attention to it. She's made some tough votes, she stepped up big time and did a very courageous thing ... on the Kavanaugh vote. But there's a political price that comes with that," acknowledged Senate Majority Whip John Thune (R-S.D.). "She's the person that can keep that seat."
Collins also resents the assertion that she's not "doing enough," though voters seem to be more upset by her actions and words than her inaction, something Senator Collins doesn't seem to quite understand in the interview:

"It's never enough. Never. For those who truly hate the president, I'm never going to be able to do enough for them," Collins said between bites of banh mi, which she frugally tucks into a to-go container before hurrying to a paper mill reopening. "I get tired of the 'she speaks but doesn't act.'"
While Collins hasn't announced her plans to run, Politico reports it would take a "seismic event" to keep her out of the race. Her likely opponent is Sarah Gideon, a statehouse speaker who raised $1 million a week after announcing her candidacy in a race that is expected to be one of the most costly in Maine history.