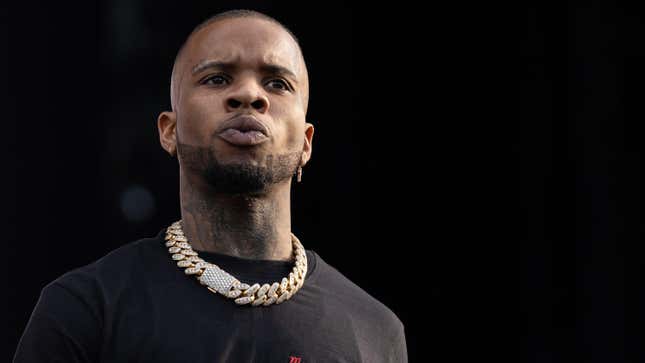 It's been less than a month since Tory Lanez (Daystar Peterson) was found guilty in the shooting of Megan Thee Stallion, and somehow, he continues to make headlines on a weekly basis.
Crush of the Week: Daniel Radcliffe's Weird Al
First came the petitions. Then, the long overdue apologies from lame industry peers to the woman at the center of the case after Lanez's post-shooting apology audio leaked. Now, Lanez—who's currently awaiting sentencing without bond in a Los Angeles jail—is launching a robust appeal effort with the help of new legal counsel, including none other than Jose Baez of Casey Anthony trial-fame, and David Kenner, who gained notoriety for winning Snoop Dogg's murder case and his relationship to Suge Knight.
Per a new report from Rolling Stone, Lanez feels "misled" by his former defense attorney, George Mgdesyan, in the wake of the guilty verdict. Apparently, the rapper wanted to testify on his own behalf but was ultimately dissuaded, sources said. The possibility of Lanez's testimony was heavily speculated about throughout the two-week trial, with experts and court watchers weighing in on how it could help (but mostly harm) Lanez.
Regarding a forthcoming appeal, Baez told TMZ this week that there were "procedural errors" made by Lanez's defense and that he was "confident" in winning an appeal. Just one day later, Mgdesyan explained to Page Six that he wasn't fired, rather he simply "didn't have time for appeals." OK!
Meanwhile, Knight has also weighed in, telling Rolling Stone that he empathizes with Megan: "I understand what Megan goes through because when Tupac and I got shot in Vegas…I got a fragment and a bullet an inch to my skull today," Knight said. "They didn't remove it because they said if it went another inch I'd have been a vegetable or dead…So I know what it's like when people say, 'You didn't get shot, this didn't happen, she's lying.' They accused me of stuff (too)."
However, he also expressed sympathy for Lanez: "Right now, Tory is probably going through [the] worst days of life, because the county jail [is] so horrible and dirty. The food is garbage, the cell is freezing, it's dirty and nasty. You could be sitting in your bed at night, and a rat might run across your chest, or it might bite you, roaches is all over your bed."
Lanez's sentencing was recently delayed from January 27 to at least February 28. He faces up to 22 years in prison and possible deportation to his native Canada.
---