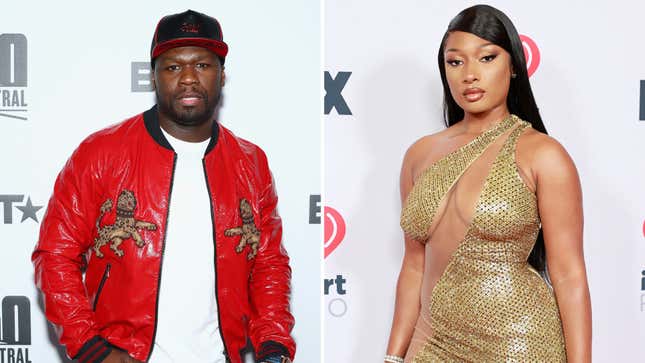 Last month, Tory Lanez was found guilty on all charges in an L.A. court for shooting Megan Thee Stallion in the foot in 2020. We're now witnessing the beginnings of what I hope to be a very long apology tour by the people who either didn't support Meg throughout the ordeal and even called her a liar. First tour participant seems to be 50 Cent, who shared a meme in December comparing Meg to Jussie Smollett to his Instagram and a post in April calling her a liar.
On a radio show earlier this week, 50 Cent offered what I would consider a 50 percent apology to Megan. "The only reason why I felt like ... I should apologize to her is because ... I heard the phone conversation," he explains, referring to a phone call between Lanez and Megan Thee Stallion's former friend Kelsey Harris. In the call, Lanez says he's "deeply sorry" for hurting Megan.

Prior to hearing that, 50 Cent assumed that because Megan had lied in the Gayle King interview, saying she'd never hooked up with Lanez, that she was lying about other things as well. "It wouldn't be no reason for them to be around each other then. From that, it felt like she was lying," the rapper said. I mean, from personal experience, there are dozens of times per day I am around men and am not sleeping with them, but OK.

In the year and a half between the incident and trial, a lot of prominent folks in the hip hop community formed the opinion that Megan was lying. Drake rapped "This bitch lie about getting shot but she still a stallion" in November. A lot of folks unfollowed Megan on social media, as well, including Rihanna, Kylie Jenner, and Nicki Minaj.
One voice that has been surprisingly loud in the pro-Megan movement: Soulja Boy. "I'm the only n— in the whole rap game that's gonna say something? OK, cool. Well, fuck you, Tory Lanez," the "Crank That" rapper said on an Instagram live. I'm not in the rap game, but I'll gladly chime in, too. Fuck you, Tory Lanez.

---