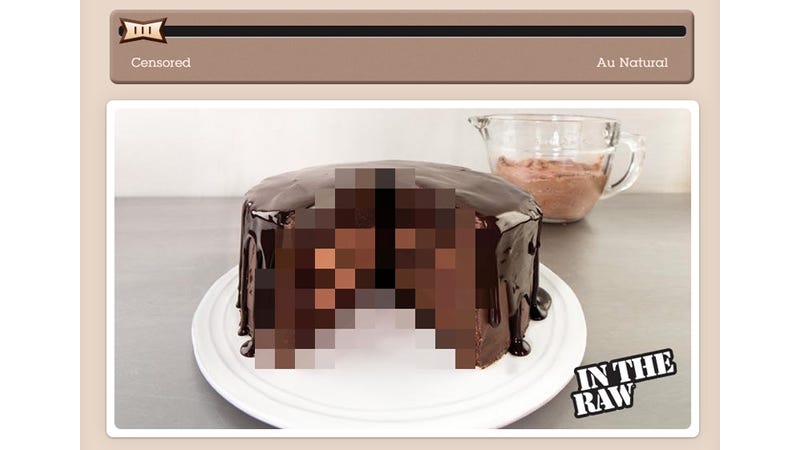 A new ad campaign for Sugar In The Raw gives new meaning to food porn: A chocolate cake is photographed like a crotch, purposely pixelated and called a "forbidden pleasure," with the words "enter here." Cupcakes with cherry "nipples" are censored, as though they are breasts. Sure, it's a cheeky play on the brand's name — Raw — but can aligning yourself with pornography actually sell sugar?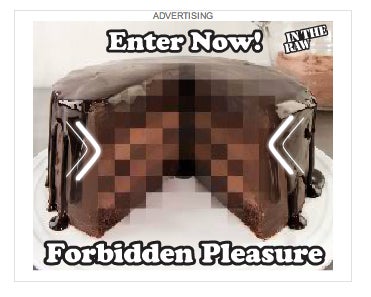 They say that sex sells, and it seems like there have been a lot of ads pushing the envelope, in the last few years. We've seen half-naked women writing with cheeseburgers, semen-esque liquor ads, and discovered that vodka is code for cock. But unlike ads with a sexy subtext, the Sugar In The Raw concept is pretty overt: You click a pixelated picture, just like you're clicking to see porn. Or uncensored celebrity ladyparts.
There's even an "au natural" app on Facebook that allows you to participate in the depixelization of the treats, with saucy, sexy double entendres like "ready for some afternoon delight?" and "The Hottest Au Natural Amateur Photos On The Web!" GET IT? FOOD=PORN. Foodporn. Which adds fuel to our theory that a cupcake is basically a vagina. Instead of putting a "girl" symbol on the ladies restroom door, restaurants should just put a cupcake. SEXAY.