On Wednesday evening, Lady Gaga released the lyric video for her song "Applause" after hyping it all day on Twitter. According to E!, the video was filmed at the Los Angeles gay club Micky's, where Gaga stayed for 45 minutes, interacting with fans and posing for selfies. Did this evening out require the effort that one of her "regular" (they're not regular, they're ARTPOP) music videos? No, but that still doesn't make the "lyric video" for "Applause" true to the lyric video genre. Gaga is but one example of a trend that has officially verged into obscene: lyric videos are now just regular music videos.
The growth of lyric videos has already been remarked upon, but the speed at which this phenomenon – which was once sort of cute – has taken off is slightly grotesque. We know why they were started: fans would upload singles to YouTube with images of the artists, covered with lyrics, and in the days before Spotify, people who wanted to hear a song right now could listen to them without having to wait for the radio to play them or the music video to be released. Of course, that meant that record labels and artists made no money off of potential millions of listens, and thus, the official lyric video, through which advertising could be sold, was born.
But what was once a small, burbling baby has become a squalling toddler. A brief glance at this outdated piece on NPR's MonkeySee blog from February 2012 shows how quickly things have spiraled out of control. It makes lyric videos from just a year and a half ago look downright quaint. Back then, lyric videos at least passed for videos whose sole focus were the lyrics:
...as they've become more common, official lyric videos have evolved into more than just marketing tools. The best ones are also works of art.

Take the lyric video for Katy Perry's "Part of Me." It's a good, basic example of the form, using interesting fonts and typographical effects to make the text come alive on screen. Words slide out of each other, phrases flip forward like cut-outs in a pop-up book, and the movement is timed to the song's racing pulse.
MonkeySee correctly credits Cee-Lo's "Fuck You" as the video that really pushed everyone else to step up their lyric video game. What they couldn't predict, however, was what a horrible direction this trend would go in.
Let's make the fonts really cool! as an impressive lyric video tactic only lasted so long. Quickly, fonts weren't enough, and all of a sudden Lady Gaga is releasing a lyric video like "Applause" that is actually a ton of drag queens performing and being legitimately entertaining. Avril Lavigne has released a video for her song "Rock N Roll" that features fans Instagramming videos of themselves lip-synching to the song (there's also an "official audio" version that doesn't have anything fancy attached to it, adding another layer to this ridiculousness). Katy Perry features her hands texting a ton of emojis for "Roar". Selena Gomez rides around in a car for her "Slow Down" lyric video. And Justin Timberlake slaughtered the medium by releasing the monstrosity that is the "Suit & Tie" lyric video which is basically just a black and white version of his already really boring music video for that same song.
The fast growth of the lyric video is just part of a larger issue in which musical artists attempt to make more out of less, teasing the ultimately limited amount of media they are capable of producing in the hopes of making more money out of less work. Perry – like many other pop stars – has taken the new lyric video one step further and released numerous video/album teasers in order to amp up excitement about her final product. This is directly correlated to the tactic taken by her record label to release basically every song off of her album as a single, which meant that long after her first single off of Teenage Dream was released, "California Gurls", Perry was still at award shows getting nominated for songs from that album. In fact, Perry's made only two records and has still managed to have seven singles hit number 1 on the Billboard Hot 100 chart, five of which were from her second album alone.
G/O Media may get a commission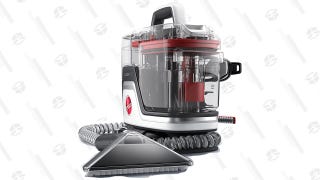 Save $10
Hoover CleanSlate Plus Carpet & Upholstery Cleaner
No matter how much money they're making off of it, a lyric video or a teaser video or many, many many singles released from one album doesn't amp up or make an artist more impressive. In the long run, it makes everything they do create slightly less valuable, until every bit of work becomes just one more subpar, unimpressive thing we're expected to pay attention to.