Because we live in a time where it's common practice to tease a three minute music video with a 30 second clip just to get people hyped about said music video, Katy Perry has done just that for her video for "Roar", her new single. In the clip – entitled "Burning Baby Blue" – Perry takes a lighter to her famous blue wig and with a very serious face, burns it.
Because all hair, fake and real, is pretty flammable, that shit burns real quick, as Perry learns whilst rocking a sort of Addams Family goth aesthetic. The move, while over the top and mildly ridiculous, makes a lot of sense for Perry. In a video for Vogue about her July cover for the magazine, she talks about how she's dyed her hair black ever since she was a teenager, after a phase when she went blonde to look like Madonna in her video for "Who's That Girl". "It just didn't look right," says Perry.
"We used to like to do dramatic makeup but I think that we are coming into the age-appropriate field of experimenting?" Perry adds, her voice going up at the end as if she's unsure herself that she's ready or willing to become more age-appropriate, or that if she is, it will be accepted (Perry is 28). Perry's clearly trying to make a statement about her artistic changes, indicating that she's not doing the California Gurl thing any more, hoping that it will be both accepted because of her boldness and also received well commercially. Because reinvention of image is, in the pop world, both commodity and art.
"Roar", off Perry's forthcoming album Prism – which will be out in October – drops August 12. Farewell blue wig.
G/O Media may get a commission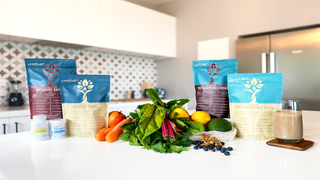 Image via Jason MerrittGetty and screenshots via YouTube