After first announcing last year that the $20 bill featuring Harriet Tubman was delayed due to technical difficulties, Treasury Secretary Steven Mnuchin has inched a bit closer to flat-out stating that technically the difficulty is that the Trump administration doesn't like black people or women very much.

Despite the Obama administration's plans to roll out the Tubman twenty to commemorate the centennial of American women's right to vote, Mnuchin has just announced that we will not see that particular bill until 2030, if at all, per the New York Times:
"Treasury Secretary Steven Mnuchin said on Thursday that a new $20 bill would not be released until 2030 and that a future secretary would make the decision about whether Andrew Jackson would be replaced as the face of the note."
Citing difficulty with the bill's anti-counterfeiting technology, which he implies would somehow be more complicated should a black woman's face appear on the money, the administration will now pivot to redesigning the $10 bill for 2026 with Alexander Hamilton's big white face still intact. When asked if he personally agreed with President Donald Trump's 2016 campaign assertion that it was "political correctness" to replace Andrew Jackson, responsible for the genocide of countless indigenous people, with Harriet Tubman, who helped enslaved people escape to freedom, Mnuchin did some impressive dog-whistling in support of "preserving monuments" before saying that he had no opinion:
"Mr. Mnuchin did compare changing the money to altering monuments in Washington, but then was careful to say that he was not taking any position on the matter."
G/O Media may get a commission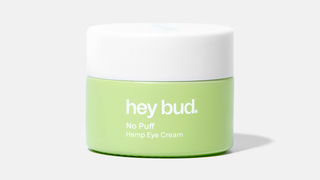 15% off
Hey Bud - No Puff Hemp Eye Cream
However, delaying the release of a bill that, by insider accounts, was nearly ready to go last year and babbling about monuments as the country pulls down confederate statues in revolt against the police-sanctioned murder of black people almost seems like the Department of the Treasury has, in fact, sided with America's long history of racism and murder so clearly endorsed on our money.