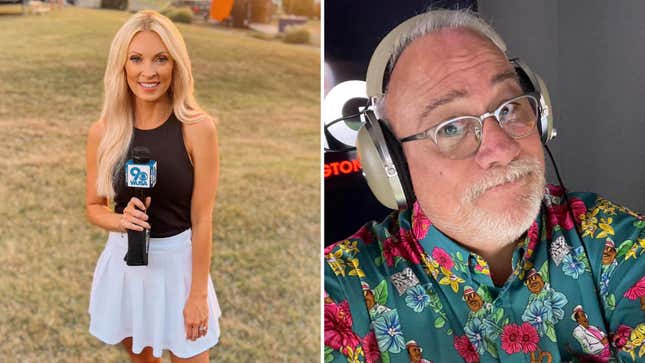 Over the weekend, a radio host by the moniker of Don Geronimo (real name: Michael Sorce) was fired after making sexist remarks in reference to Sharla McBride, a WUSA9 Washington, D.C., reporter, while on-air at a Washington Commanders training camp.
Luke Macfarlane Talks Starring In Historical Gay Rom-Com 'Bros'
"Hey look, Barbie's here," Geronimo reportedly shouted at McBride as she walked by him and Crash Young, a fellow radio personality. "Hi, Barbie girl. I'm guessing she's a cheerleader."
McBride was mentioned at another point in the WBIG "BIG 100" broadcast, which was recorded and aired last Thursday. "Oh hey, there's that chick that you thought said tight," Geronimo remarked to Young. What "tight" referenced was never explained as Young's response was reportedly interrupted: "Yeah, I screamed tight when she was," Young began. Frankly, I'm okay not knowing the remainder of that story.
"I thought she was a cheerleader," Geronimo later said when he and Young discussed why the journalist of 17 years looked "familiar."
Fortunately, it didn't take long for the Commanders—who've partnered with iHeart aka the owner of the station that employed Geronimo—to reprimand the radio host. By Saturday, he'd been terminated from the station.
"We have worked hard to ensure that everyone feels safe and respected in our workplace, and we took swift action when we learned that an employee of our partner iHeart made sexually disparaging remarks to and about a member of the media while she was broadcasting live from training camp yesterday," a spokesperson for the team told WUSA9.
"After an internal review, Don Geronimo is no longer an employee of WBIG," Aaron Hyland, iHeartMedia's D.C. Region president, commented to the Washington Post. "We take matters of this nature very seriously and this behavior does not align with our core values."
McBride told the Post that "no woman should experience this in the workplace" and that she appreciated the "swift response" from the Commanders.
"When I heard the comments made about me on their radio show, I felt incredibly insulted and embarrassed," McBride said in a statement to the publication. "In my 17 years as a professional journalist, I have never been disrespected in such a blatant manner while trying to do my job. Their words were sexist and misogynistic."

Meanwhile, Geronimo tweeted on Sunday that while he would not be commenting on the matter publicly, he was seeking advice for the future: "I am consulting with my advisors as to my options moving forward, including an accurate reflection of the situation."
Here's hoping the termination signifies the start of a more...positive era for the Commanders since parting with former owner, Dan Snyder.