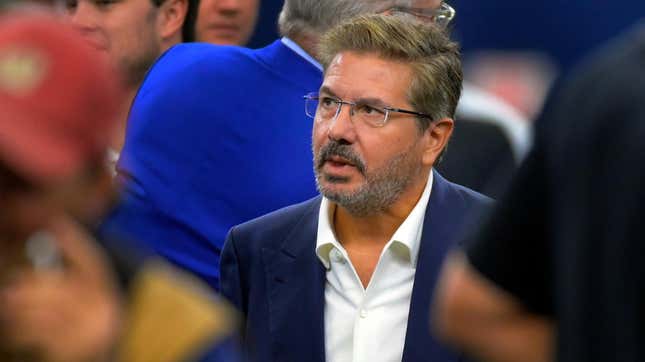 After nearly three years of protesting, testifying before Congress, and a whirlwind of allegations of financial impropriety and sexual harassment, the Dan Snyder Era of the Washington Commanders has finally come to a close.

What is Going On With Deshaun Watson's NFL Suspension?
On Thursday, the NFL announced it had approved a record-breaking sale, in which private equity billionaire Josh Harris and his investment group, including Magic Johnson, would pay $6.05 billion to buy the Commanders from beleaguered owner Dan Snyder, according to the New York Times.

The same day, the NFL also released a 23-page report detailing the findings of former federal prosecutor Mary Jo White, who was hired to investigate some of the allegations made by former Commanders employees during a congressional oversight hearing in November of last year. After reviewing interviews with 44 witnesses and tens of thousands of documents over 17 months, White concluded that Snyder had impeded the NFL's investigation into his team's toxic workplace, sexually harassed former cheerleader and marketing employee Tiffani Johnson, and led the team to intentionally withhold $11 million in revenue that was meant to be shared amongst the rest of the NFL's 32 teams. For these misdeeds, the NFL fined Snyder $60 million—just 1% of the money he is set to make from the team's sale.

"It definitely feels like a victorious Friday. I feel strong," Melanie Coburn, the former Washington cheerleader and marketing director who participated in a February Congress hearing, told Jezebel on Friday. "I feel honored to have been able to play this role, to be the voice of all of my sisters who were silenced [via NDAs] throughout this process…I feel like my hope has grown for all workplaces, not just the Commander's, but truly across the country."
"This is so much bigger than the Washington Commanders," she continued. "This is bigger than the NFL."

Snyder and the Commanders have been in hot water since a Washington Post report in 2020 revealed allegations of systemic sexual and verbal harassment in the workplace, the brunt of which impacted the team's women employees. Some of the team's former employees had alleged that executives had cut together videos of the team's cheerleaders partially exposed at Snyder's behest, made inappropriate and objectifying comments towards them, and requested that they flirt with suite holders. While Thursday's deal marks justice for some of the team's women workforce, there are a handful of other such claims that have gone unaddressed.

"The unfortunate thing from my perspective is that this wasn't the NFL doing the right thing. It required all of us being persistent, exhausting ourselves. It came down to what we've now learned of Snyder's financial improprieties…it came down to the money," Megan Imbert, one of the former Commanders employees who came forward in the initial Washington Post reports, told Jezebel Friday. "I don't look at the NFL as heroes. They were complicit and a part of the cover-up and the saga of the last three years. I want to celebrate, but then I realize Snyder's walking away with $5 billion. Yes, he's losing the team that he really, really wanted to keep. But the bad guy's still getting rewarded."
Attorney Lisa Banks, who represented Johnston and Jason Friedman, a former employee who had come forward about the team's financial wrongdoings at great personal risk along with several dozen other former employees, told ESPN, "This is utter vindication for Tiffani Johnston and Jason Friedman."
"We would be remiss in not asking why, after being repeatedly made aware of the numerous allegations against Mr. Snyder—through our clients' testimony, the Beth Wilkinson investigation and a Congressional investigation—the NFL and Roger Goodell allowed him to retain ownership, buried the findings of its own investigation and most importantly, helped him hide and avoid accountability," Banks added of the league's and Goodell's culpability.
As you'll recall, before Mary Jo White, the league had hired Wilkinson to investigate the Commanders' workplace in August 2020. After Wilkinson wrapped the investigation 10 months later, the findings were relayed orally to the NFL and to Goodell and to this day have not been released publicly. The team was fined a measly $10 million upon the conclusion of the probe, and it wasn't until after Congress opened an investigation into the Commanders that the NFL embarked on a second investigation. In other words, were it not for government intervention, this outcome may not have been possible.

Both Coburn and Imbert expressed concern over some of the allegations that may have been in the Wilkinson report and would never see the light of day, as well as those that weren't addressed in White's report. In particular, there's still no further information about a 2009 sexual assault allegation first detailed in the Washington Post, in which a woman alleged that Snyder groped her, asked her to remove her clothes, and asked for sex in the back of a private plane. Three months later, she settled with the team for $1.6 million, though Snyder has denied the allegation. In October, however, ESPN reported that the woman in question had spoken to White for her investigation, but the woman is not mentioned in the final report.

"While yes, I am pleased to see Mary Jo White's report, it is very narrow in its scope," Imbert said. "It's nothing more, nothing less than what Roger Goodell asked her to do. She did her job, in terms of exactly what he wanted."

Despite all they've endured emotionally the last few years, Imbert and Coburn agree that this is a victorious moment, as evidenced by videos of fans celebrating Snyder's ousting as if they're in the Super Bowl themselves. Perhaps it's not the end of the war—Imbert would like to see far more government oversight into the NFL's coveted owner's club, and both women are still seeking the NFL's protection from any potential retaliation from Snyder—but for now, at least, they can take a breath and relax.
"It just feels good to have good humans at the helm, finally. I have high hopes for them," Coburn said. "There's really nowhere to go but up at this point."