Unpopular but maybe popular opinion: men's figure skating costumes are sometimes, if not always, better than the women's.

Perhaps I am now inoculated against poor fashion choices and my taste has been changed over the week I've spent looking at figure skating costumes in great detail, but some of these men's looks aren't that terrible. Some, on the other hand, are. Keegan Messing, pictured above, is wearing an interview suit sans jacket, which is a look I do not applaud but can respect.
Paul Fentz is about to recommend the yellowtail crudo to start, but props to him for pairing that pinstriped pant with a top that is anything but white. I'm here for a statement sleeve, but please direct Deniss Vasiljevs back to the vintage daguerrotype from which he's escaped. The effect of leaving the tan vest unbuttoned over that white shirt reminds me a little bit of when Don Draper went to Esalen, but sure. I'll give it to you, Alexei Bychenko.
G/O Media may get a commission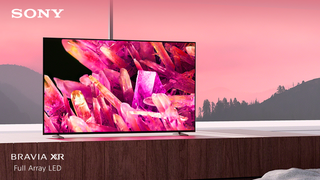 $400 off
Sony 55 Inch 4K Ultra HD TV X90K Series
Finally, I understand the importance of sparkle—movement! Grace! Flash! Athleticism! It all hit while watching Adam Rippon's performance; the sheer maroon top is a mood, while the lines of glitz on the front and the back mimic the lines of a ripped torso in a way that I assume was intentional. Looks good to me.
Three great examples of figure skating minimalism, done right: Michael Christian Martinez in a tracksuit esque-top with emerald green sparkle kept it simple, stupid, for the rest of his look, which is the CORRECT insintinct; sweet Nathan Chen stumbled, but I love this white sleeve; from afar Keiji Tanaka's shirt is boring, but up close HELLO sequins and vinyl and sheer panels! J'adore.
Constant exposure to sequins and lycra has softened my cold heart slightly, but I will not budge for these riDICulous ensembles that evoke, from left to right: something Abby Lee Miller would dress the girls in for a dance about 9/11, on Mikhail Kolyada; yet another mother of the bride look on Shoma Uno; and finally, the most moldy of all the mold-adjacent tops I've seen to date!! Sorry Jorik Hendrickx, someone did you a teensy bit dirty. Get it? Dirty... moldy... a joke.
Daniel Samohin's black top and tuxedo pant is neither good or bad, just boring. Felipe Montoya wins a gold medal for wearing ALL WHITE on the ice like he's gonna step off the ice and onto the jitney headed for Montauk. Boyang Jin's otherwise blah top is set off nicely by simple sparkles, evoking the night sky? Sure!
My man Vincent Zhou is 17 years old and landed the first ever quad lutz done in an Olympic Games so any opinion I have about his outfit is moot. Junhwan Cha is wearing a kicky little belt on an otherwise uninspired outfit; Michal Brezina confuses me; and I would gladly accept Javier Fernandez's outstretched hand, dressed as nattily as he is, if it means he'd lift my hog body above his head like a sack of potatoes and spin me very slowly around the ice just once.

This motherfucker Yuzuru Hanyu is out here in a gold lamé sash, a white to blue ombré sequined blouse, and the quiet, assured confidence of an athlete at his prime?? He also commands a fandom that is often moved to tears by his performance and showers him with Winnie the Pooh stuffed animals because Winnie the Pooh is his lucky charm. Oh, and he's an insanely talented skater who really fucked it up. And! He! Looks! Great!!!!