Around 200 people left the Amalie Arena on Sunday night after Amy Schumer's stand up set got more political than they expected, according to The Tampa Bay Times—though what upset them the most (that she insulted Donald Trump and asked women in the audience who had been sexually assaulted to stand up) remains to be seen.
The Arena seats around 20,000 people so 200 isn't that many, but some of those who left say they were there to laugh, and were disappointed by Schumer's position on the election and gun control:

"I don't want to hear that. We wanted to have a good night without distractions with the politics," said Bryon Nfinger.

"It's a bit much," echoed his wife, Chrissy Nfinger.

They both said everybody has a right to their opinion but thought Schumer went on too long.

"The show became political. I definitely didn't come to hear this," said Ryan Atwood.
In the clip of her set below, Schumer invites a Donald Trump supporter onstage to explain why he supporting the grand Cheeto for president. The supporter mostly attempts to drag Hillary Clinton, which Schumer eventually puts a stop to, waving him away (though she does compliment him on not seeming like a "total psychopath"). The interview sets off both booing and cheering from the audience, as well as the unseen walkouts.
Schumer then says that the past week has been "real triggering." She asks to bring the lights up and says, "If you've been sexually assaulted, please stand up." Schumer thanks the women who do, and adds, "I know you're here to laugh, but you choose your life...we're gonna spend five more minutes talking about it...you can leave if you want." When the booing continues she warns that security will escort booers out:
Attendees are arguing on Twitter about whether or not people were booing political talk or talk about sexual assault, but because this is the election from hell, those subjects have become inextricably linked:
G/O Media may get a commission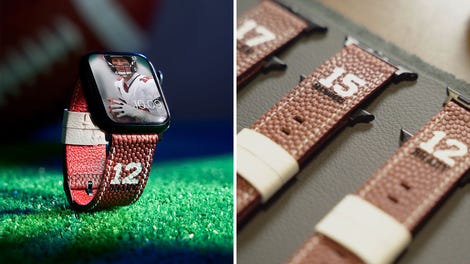 Official NFL PRODUCTS
Official NFL Apple Watch Bands
Florida is a swing state, so people could be booing mentions of either candidates, really. Though if audience members were Trump fans, they might have been the most offended by Schumer calling him an "orange, sexual-assaulting, fake-college-starting monster," despite the fact that those descriptions are truly child's play.