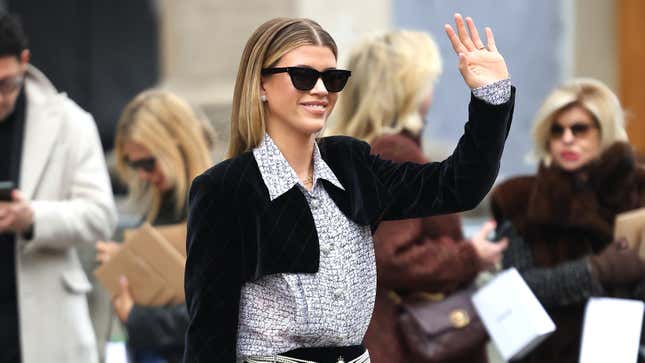 If you had asked me last week what Sofia Richie was up to, I would have had to take a second and remind myself that she is a different person than Kaia Gerber. But today, three days after her expertly publicized wedding, I can confidently tell you that the newly minted Mrs. Grainge married the "love of her life," Elliot Grainge, a British music executive (don't worry, he also comes from music industry money), in the south of France and wore three different Chanel dresses, signaling the luxury brand's reintroduction to a Gen-Z clientele. Duh.
Crush of the Week: Daniel Radcliffe's Weird Al
Vogue is calling the ceremony "this year's royal wedding." So are all of the fans commenting on Sofia's first ever batch of GRWM (get ready with me) TikToks she posted on the account she launched the day before her wedding. "The People's Princess" one commenter wrote. Absolutely no hate, but I simply did not know the masses felt this way about Sofia Richie.
The guest list was a harmonious, inter-generational celebrity blend. Representing the boomers, we had father of the bride, Lionel Richie. The early aughts Gen X/millennial cusp power players were there in full force: sister Nicole Richie; Paris Hilton; Cameron Diaz; Benji and Joel Madden. I will say the way Page Six's TikTok qualified the Madden brothers as "of the band Good Charlotte" made me check to see if I qualified for social security benefits. And then Sofia, herself 24, and a gaggle of influencers I do not know (including a TikTok comedian lucky enough to be Elliot Grainge's cousin) were repping Gen Z.

What I'm trying to parse out from under my crumb-covered sheets is what exactly about this wedding elevated it to this sort of collective obsession? Posts from people I actually follow have been fighting for their goddamn lives in my social media feeds the past few days against content from this wedding. I guess my surprise stems from the fact that only half of this couple is well-known at all—but maybe the expertly executed TikTok rollout could be responsible? Or the guest list? Honestly my best guess is that society at large is happy to celebrate Sofia not marrying her ex, Scott Disick, who's 15 years her senior.
An insider gave Entertainment Weekly a look into how things are going for Lord Disick right now:
He is doing his best to focus on the good things in his life, but between Kourtney and Travis' wedding special airing and Sofia's wedding this weekend, it has been a lot. He's spending time with close friends to stay distracted and keep busy.
My thoughts and prayers are also with Nicola and Brooklyn Peltz-Beckham, who've recently celebrated their one year anniversary, are still embroiled in wedding lawsuits, and are probably watching the adoring hype surrounding this wedding like this.
---
Speaking of our favorite Instagram chef, Mr. Peltz-Beckham... His latest awful cooking video has gotten everyone riled up because there's a huge hole in the crotch of his pants. [Instagram]
Fans are grappling with the revelation that Fugees rapper Pras was an FBI informant. [XXL]
Let-down alert: There is no kissing in the Prince Harry and Meghan Markle NBA kiss cam moment making the rounds. I repeat: No kissing.[Page Six]
Which Real Housewives franchise would Paula Abdul be most suited for? [Just Jared]
Grimes wants you to duet her with AI. [Billboard]
Gwyneth Paltrow is back in her natural environment (LA Fashion Awards) after spending way too much time in a poorly lit court room. [CNN]
Here's a headline that I'm going to be thinking about for awhile: "Kim Kardashian and North West Served Mother-Daughter Glam." Mother-daughter glam! Mother-daughter glam? [Glamour]