Justin Bieber was filmed taking a well-deserved rest from this Terror Tour of South America. In the video, you see the Ambassador of "Swaggy" slumbering on a futon; the camera then pans to a woman who is grinning with the glee of one thousand grins. She blows a kiss to the singingest dance-boy and then exits the room.
While lots of humans on the Internet are insinuating that the mirthful video-taker was a prostitute, I have my doubts. This scene looks more like the aftermath of a chicken nuggets party than of an erotic encounter with a lady of the night. Behold how tenderly the Biebs sleeps upon that couch, still clad in his baseball cap and his little muscle tee. Also — this is fucking creepy and invasive as fuck. [NY Daily News, Perez Hilton]
Back to the Terror Tour! The Joffrey of pop cannot rest forever! Photographers caught Bieber spray-painting the Hotel Nacional in Rio de Janeiro. By "photographers," this article might mean "Justin Bieber himself," because he uploaded a picture of him doing graffiti to his Instagram. It is the ugliest, most horrible graffiti I've ever seen — and a clear cry for help (a terrifying representation of his lost monkey, Mally).
Because defacing a building in Brazil is punishable by up to a year behind bars, Brazilian law enforcement would like to have a word with the boy. But he's already moved on to Argentina, leaving a trail of destruction and Dorito dust in his wake. [The Hollywood Gossip]
---
G/O Media may get a commission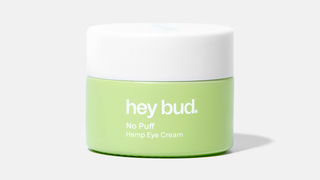 15% off
Hey Bud - No Puff Hemp Eye Cream
Ok, this is weird: Lindsay Lohan's half-sister Ashley Horn tearfully apologized to Lindsay Lohan on TV... for not getting plastic surgery to look like her? She actually had plastic surgery just 'cause, a POLYGRAPH TEST CONFIRMS. What a world. What a stunning use of forensic technology.
A month or so ago, Horn was quoted in inTouch saying, "My goal [in getting $25,000 worth of surgery] was to look like Lindsay in her good days, when she was around 18, 19 years old." She says this was taken out of context (HOW?) and that her intention was never to hurt Lindsay. At the end of the apology, the crowd erupts into whoops and cheers. This is the best experimental theater ever performed on an American stage. [Radar]
---
Elizabeth Vargas' absence from 20/20 has finally been explained: she checked into rehab for alcohol abuse a couple of weeks ago. She plans on returning to the show once she's released from the facility.
She released a statement saying that she suffers from alcohol addiction and that she "feel[s] fortunate to have recognized it for the problem it was becoming." She adds, "Like so many others, I will deal with this challenge one day at a time."
ABC has announced that it completely supports her and will welcome her back on the show once her treatment is over. [TMZ]
---