Justin Bieber was caught attempting to sneak out of an upscale Brazilian brothel with a sheet over his head. He and a friend had spent more than three hours inside, and they left with two women. In other words, the Goblin Prince of Little Shit Kingdom donned a ghost disguise while attempting to discreetly participate in sex tourism.
FYI: prostitution is not illegal in Brazil — it's been recognized by the Ministry of Labor as an official occupation since 2002 — but employing prostitutes is. The brothel that Bieber went to was raided by the police last year.
In a weird, kind of novelistic touch, the singing-dancing boy was identified by a very ugly tattoo on his wrist that's apparently supposed to be a drawing of former girlfriend Selena Gomez with angel wings, and also by his sneakers. (Also by the team of bodyguards surrounding him, spraying photographers with water and scolding them.)
Last week, Bieber allegedly paid a prostitute $500 for sex in Panama City. [Page Six]
As of today, Justin Bieber is no longer the most popular user on Twitter — possibly because his predominantly teen fanbase is sick of his ghost-Johning. [The Guardian]
G/O Media may get a commission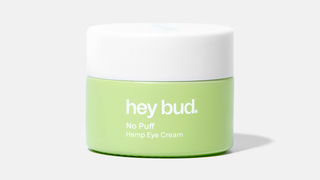 15% off
Hey Bud - No Puff Hemp Eye Cream
---
In an interview with Elle, Lea Michele opened up about how Kate Hudson (who played her dance teacher on Glee) supported and helped her after Cory Monteith's untimely passing: when Lea's house was swarmed with reporters, Kate invited her to stay at hers. "Like it was nothing," says Michele. "I'll never be able to thank her, truly, for what she did for me."
She also talked about how she's coping with the pain and healing:
"I never thought I would be in this position in my whole life. Now that I am in this position, you can choose to rise, and that's what I'm going to try to do. I know that Cory would want nothing more than for me to take this situation and use it to help people."
Gaaah. She possess such admirable strength. [Elle]
---
Courtney Love says that she deserves a second chance after these few turbulent years: "Listen, if Natasha Lyonne can burn down a house and Robert [Downey Jr.] can go to prison for two years, I deserve a second chance. I know there is hope for me." Good point, C-Love!
Also, she addresses the possibility of a Courtney Love biopic in a very Courtney Love manner:
"No, no, no. There will be no biopic on me. I will never sell my publishing. I won't let that happen. I still get hit on by guys because they want to be cast in that Kurt Cobain biopic that's been in production for years. I could give you some [actors'] names that would blow your mind, but I am so not sleeping with someone under 38."
Sorry, 37-year-old aspiring Kurt Cobains. You have missed the cut-off for this nonexistent role. [People]
---