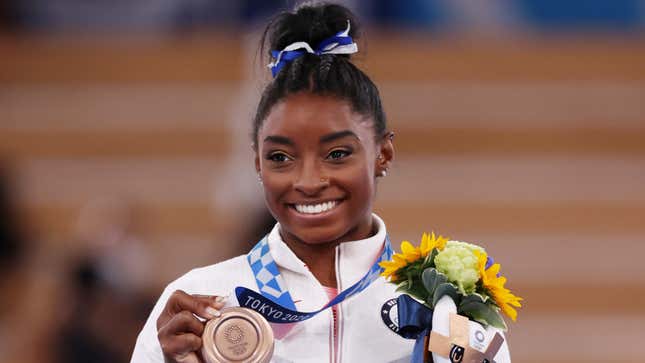 Decorated gymnast Simone Biles, who became an Olympic champion in 2016, has long held the mantle of gymnastics GOAT. Aside from being a seven-time Olympic medalist, Biles helped changed the mental health landscape for athletes when she made the difficult decision to pull out of the Olympics in 2021 to protect her own. And now, after two years away from the sport, Biles is kicking off her long-awaited return to gymnastics, and holy hell am I excited.

The Housewives Have Kept Mum About NeNe Leakes' Lawsuit
USA Gymnastics announced Wednesday that Biles would be returning to her first gymnastics meet since the 2020 Tokyo Olympics (which took place in 2021 due to covid-related delays). Along with fellow Olympic medalist Sunisa Lee, Biles will enter the U.S. Classic on August 5 in Chicago as part of the women's single-day event. The Classic is considered a warm-up for the national championships in late August and for the 2024 Paris Olympics, though Biles hasn't confirmed whether she intends to compete in next year's Games.

During Biles' last official gymnastics appearance at the Tokyo Olympics, she made history both as a competitive athlete and as an advocate for mental health. After dealing with extreme pressure and a disorienting condition gymnasts call the "twisties"—in which athletes lose their understanding of where their body is in the air—Biles made the difficult decision to withdraw from the team finals and the all-around individual finals.
Biles later rejoined the competition and won a bronze medal on beam (and in doing so, tied Shannon Miller's record for most Olympic medals by an American woman gymnast), but her decision to pull out of the individual all-around was unprecedented. Though athletes are being increasingly candid about their mental health struggles, it was unheard of at the time for an athlete to remove themselves from competition to protect their own health and safety—doubly so for a Black woman.

"My mental and physical health is above all medals that I could ever win," Biles told the Guardian at the time. "So to be clear, to do beam, which I didn't think I was going to be, just meant the world to be back out there. And I wasn't expecting to walk away with the medal. I was just going out there doing this for me."

In the two years since Tokyo, Biles has focused on her personal life and happiness. She got married to Green Bay Packers defensive back Jonathan Owens in the spring and stopped posting about gymnastics on social media almost entirely.

"Right now, I'm trying to take it one step at a time. I really feel like I haven't fully got to process Tokyo yet," she told Olympics.com in September 2021, one month after the Tokyo Games. "So, once I fully understand and process that, I'm sure it'll lead me towards which direction I want to go towards…In the back of my head, it's like, 'Yeah, I'm going to do it,' but then my body and everything else tells me no. I have to gauge it. I'm not sure yet."

The 20-year-old Lee, meanwhile, who won gold in the all-around final in Tokyo, has also committed to the U.S. Classic after two years of competition at Auburn University. Though she was forced to miss part of her sophomore year due to ongoing health issues, Lee has been vocal about hoping to pursue her Olympic return to defend her title, as well as to shoot for gold on the uneven bars (she received the bronze medal on bars in Tokyo).
If Lee and Biles together qualify for Paris 2024, they'd both be in the position to make history again: No U.S. Olympic team has ever had more than one Olympic all-around winner. But I'm sure it wouldn't matter all that much to the teammates, for whom making history seems to be an everyday occurrence.