Now that we've gotten past criticizing President Obama for simply taking a vacation, the nation has moved on to critiquing his summer reading choices. Perhaps there's just nothing going on this month (oh, sorry Kim Kardashian's wedding), or maybe we've become accustomed to nitpicking everything the President does. For whatever reason, several pundits have declared that Obama's book list contains too much fiction, and now there's a new complaint: Too few female authors.
Though reports vary, Obama has recently purchased Daniel Woodrell's The Bayou Trilogy, Ward Just's Rodin's Debutante, novels by David Grossman and Abraham Verghese, and Isabel Wilkerson's The Warmth of Other Suns. It's also possible that he's been reading Aldous Huxley's Brave New World," and Emma Donoghue's Room. Overall, about 70% of his summer reading was penned by a man.
Robin Black, author of the short-story collection If I Loved You I Would Tell You This, writes on Salon that while obviously this isn't a national emergency, it is "upsetting." She notes that in light of the recent controversy over comparable novels by male writers getting a better reception than books by women, there's been more attention paid to how female authors are short-changed. Studies have shown books by male authors are more likely to get reviewed in major publications. Men are also less likely to read books by female authors, while women will read books by men.
Black writes that if Obama picked up more books by female authors, it would set a good example not just for the nation, but for his daughters:
The reasons for this imbalance are the subject of much speculation and little conclusion, but, simple as this may sound, it looks an awful lot to me like we think they are more interesting than they think we may turn out to be. And I very much doubt that's a message Mr. Obama means to endorse — especially as a father of daughters who might enjoy and even be inspired by seeing their father cart around a book emblazoned with a woman's name writ large.
G/O Media may get a commission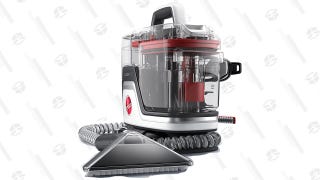 Save $10
Hoover CleanSlate Plus Carpet & Upholstery Cleaner
Obama probably should be reading more books by ladies because ladies write awesome books (we've already compiled a handy list here), but unfortunately we doubt his reading choices have any influence over the American public. According to the Washington Post, this year's choices haven't sparked much of a rise in sales. Perhaps we're setting the bar too low, but we're still excited just to have a president who wants to spend his leisure time reading rather than pretending to clear brush.
President Obama: Why Don't You Read More Women? [Salon]
President Obama's Book Slump [Washington Post]