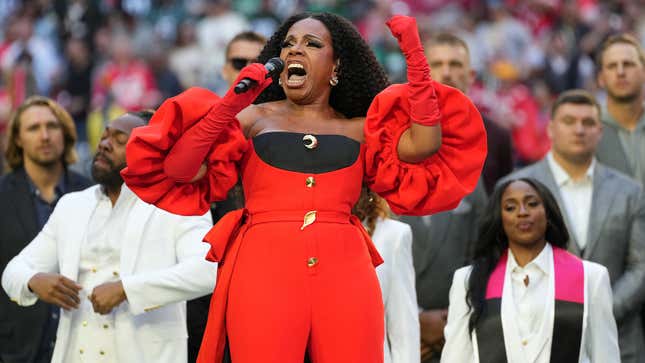 Regarding the other stirring Super Bowl LVII performance all dressed in red, Abbot Elementary's Sheryl Lee Ralph flat-out refused to say whether she lip synced or not during hers. The legend of stage and screen (and singer of cult post-disco club classic "In the Evening") performed "Lift Every Voice and Sing" (the 100+-years-old so-called "Black national anthem") at the State Farm Arena in Glendale, Arizona on Sunday before the big game. Her rousing showing was backed by a choir and preceded Chris Stapleton's rendition of "The Star-Spangled Banner."
There were moments in which Ralph's mouth, though, didn't seem to exactly match what was supposedly coming out of it (like around the 0:35 mark in the video above, there's imprecision at "liberty"). When asked about this by The Hollywood Reporter following the performance, though, Ralph deflected. "Does it matter? Does it matter? No. Thank you," she told the outlet.
She's right, of course: In the grand scheme of things, whether or not she lip synced doesn't matter. You'll recall that perhaps the most beloved Super Bowl performance of all time, Whitney Houston's 1991 rendition of "The Star-Spangled Banner," was also lipped—a fact that did nothing to diminish its power and has done nothing to diminish its legacy. Still, it mattered in the nothing-matters realm of, I don't know, general daily existence not to mention celebrity reporting, and it stands to reason that if Ralph hadn't lip synced, she probably would have just said, "No, I didn't. I sang that live. What are you even talking about?"
G/O Media may get a commission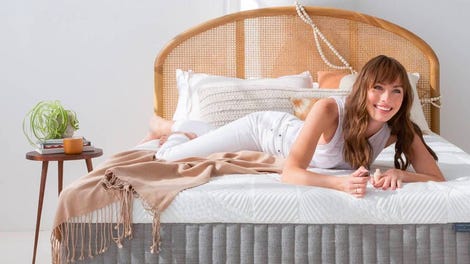 Sleep Sale
Sleep Sale - Brentwood Home
Anyway, Ralph also had this to say about her Super Bowl experience:
It's just so amazing that they chose me. And then the Eagles are in the Super Bowl. I mean, come on. You know God must be a woman because all of this is just too perfect...Just amazing, just stunning. And the way people have been coming back, they said, 'Girl, you made the pre-show look like it was trying to be halftime.' They said, 'The costume. The wardrobe. The hair. The shoes. The makeup.' I was just like, 'Well, thank you. Fenty of it all, hey.'
She's a gem no matter what is (or isn't) coming out of her mouth live at any given time.
---
Speaking of Super Bowl experiences, the Ben Affleck-works-at-Dunkin-and-takes-J. Lo's-order spot debuted:
More importantly, this somewhat awkward People interview, in which Affleck rhapsodizes his Dunkin experience for about two minutes straight, has also debuted:
In it, the frequently spotted Dunkin-cup carrier reveals his typical order: "It's not all that exciting, really. It's just iced coffee, milk and two sugars, sometimes Splenda. I do sometimes have to admit to [using] almond milk [but] if you really want to know, sometimes I forget. But really just milk and sugar has always been the...not too many sugars..."
Truly scintillating.
In other Bennifer 2.0 news, J. Lo has reportedly forgiven Ben for looking so glum while seated next to her at the Grammys. "She knows how much Ben hates awards shows and was over it the very next day," an anonymous source told Page Six. That is love and it is beautiful.
---