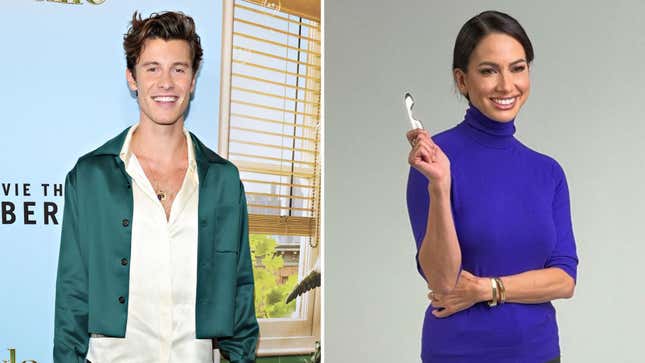 Here are some things older than 24-year-old fledgling pop star Shawn Mendes: The Titanic. Sleep Awareness Week. Dawson's Creek. The world's oldest living dog (He is 30). Ben & Jerry's ice cream flavor Phish Food. And yet, it is rumored that a beautiful 51-year-old celebrity chiropractor has found the patience in her heart to date him. God bless them both.

According to the Daily Mail, the "Stitches" singer was spotted at a Grammys after-party in Los Angeles on Sunday night with Dr. Jocelyne Miranda, a longtime back-cracker for the likes of Justin Bieber and Justin Timberlake. Miranda has worked as Mendes' personal chiropractor for years and previously accompanied him on tour. Mendes was photographed en route to the party sporting a lace tunic with a deep-V, showing off what appears to be freshly sprouted and sparse chest hair, while photos show Miranda in a Matrix-inspired leather getup—sunglasses at night included.
The duo first sparked the rumors of romance in July of last year, when they were spotted on a lunch date in Beverly Hills. Then they were seen grocery shopping together. In January, Miranda was photographed entering Mendes' West Hollywood home in yoga pants, carrying a tote big enough to double as a sleepover bag. Hath there ever existed two more star-crossed lovers? A young man and the woman who aligns his spine?!

Honestly, I'm less concerned about how this potential rendezvous began and more with how a grown-ass woman manages to deal with the antics of any man under the age of 25. He's got another year before his prefrontal cortex reaches full maturation, and I cannot even begin to imagine navigating nuanced arguments and relationship negotiations with a lad who has not yet eclipsed a quarter of a century. While I'm sincerely happy for this woman who is likely having some of the best (or, at least, most frequent) sex of her life, where she finds the energy is a mystery to me.

Of course, I don't personally know Shawn Mendes. I hope for Dr. Miranda's sake that he's a freak of nature—an old soul trapped in a spritely young man's body. Regardless, it is refreshing to see the typically one-directional celebrity dating age difference flipped on its head once in a while.