Sharon Tate's sister Debra, probably best known for attending every single parole hearing related to the murder of her sister, has something to say—frequently. She famously said last year that Jennifer Lawrence was not pretty enough to play her sister in Quentin Tarantino's (still after this week?) upcoming Manson-oriented flick. And now she's back with her take on the recently announced The Haunting of Sharon Tate, in which Hilary Duff will star as the slain Tate.
Guess what—Debra Tate is none too pleased with the project, which she told People is "just tasteless" and "exploitative."
"It's classless how everyone is rushing to release something for the 50th anniversary of this horrific event," she said. Sharon Tate and four others were killed by Manson Family members in and around her home in the early morning of August 9, 1969.
Yesterday, Page Six reported that The Haunting of Sharon Tate "is inspired by an actual quote from [Sharon] Tate, from an interview published a year before her death, wherein she reveals having dreams about ghosts haunting her house and foreseeing her own death at the hands of a satanic cult." It is unclear as to whether the movie goes as far as to claim that Sharon Tate envisioned her throat being slit, but Debra seems to think it does and on that she has to say:
I know for a fact she did not have a premonition — awake or in a dream — that she and Jay would have their throat cut. I checked with all of her living friends. None of her friends had any knowledge of this. Tacky, tacky, tacky.
G/O Media may get a commission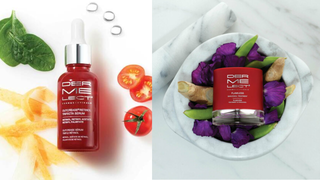 Save $19
Retinol Renewal Kit
Tate, who says she owns the rights to Sharon's likeness, also intimated that she hasn't spoken to anyone involved in the production of The Haunting of Sharon Tate.