When Gene Simmons and girlfriend of 26 years Shannon Tweed gave an awkward and somber interview on the Today Show Monday morning, many speculated that it was all just a PR stunt.
But as more details emerge — as well as the season premiere of Gene Simmons Family Jewels, last night — it's becoming more and more clear that it's not just some reality show bullshit. In the show's six-season premiere, we're shown a highly-dramatic night in the Simmons household: Gene goes out for a business dinner, while Shannon stays at home for "family dinner" with the kids. When she recieves a text to check the TMZ website later on in the evening, Shannon is faced with a photo of said business dinner which shows Gene walking out of a restaurant with a young, blonde chick on each arm.
Visably shaken by the imagery, Shannon cries until Gene comes home and she tells him she's simply had enough (above.) She demands that he start seeing a therapist to help with his constant womanizing and he reluctantly agrees. (We're later shown in the episode a scene in which Gene returns home after "seeing the shrink" — but Shannon discovers a movie ticket in his pocket that reveals otherwise. Lies!) When Gene finally does go to meet with a therapist, he doesn't say or admit to much, and they decide to bring Shannon to the next session. When he continues to be hurtful and insensitive, Shannon walks out, returns home, packs her bags, and leaves.
Another telling clip comes from a part of the episode in which Shannon and Gene's kids Nick and Sophie get talk about the marital troubles of their Mom and Dad. Sophie reveals she was also sent the TMZ photo, as Nick thinks back upon growing up with his father's rock-star lifestyle: "There was something romantic about the dual life thing ... when I was younger and I understood less about it. But you know, he's getting on in years and he has a family ... no one's questioning him anymore, he doesn't have anything to prove."
G/O Media may get a commission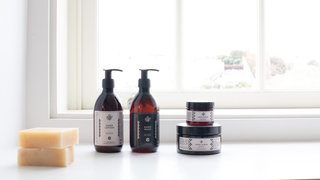 Exfoliate and Hydrate
The Handmade Soap Company
Cut to a clip from tomorrow night's Joy Behar Show, which taped this afternoon. Shannon and Gene give another chilly interview. Joy brings up his claims of sleeping with 5,000 women by asking, "How's your back, Gene?" Shannon takes off her mic — something I assume every burned woman dreams of — and walks off. After she leaves, Gene shames Joy for the "nice set-up." Joy plays the how am I to know what's real and fake on reality TV? card, saying "Don't blame me for this. Here's the problem for a person in my position: a lot of these reality shows are bullshit and I don't know if they're true or not. So, I thought that this was a game — now it turns out that it's really true." Gene somberly responds, "No, this is is actually happening to us."
Earlier:
The Most Uncomfortable Interview Kathie Lee & Hoda Have Ever Had