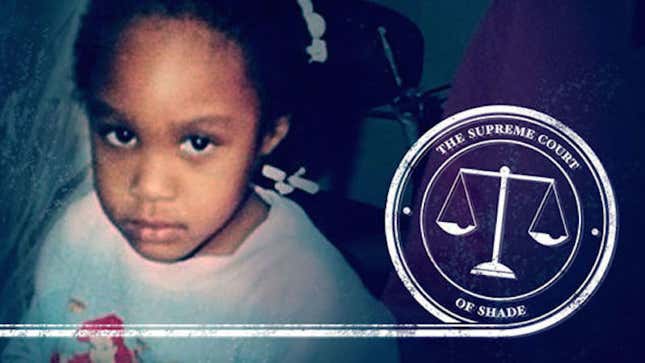 At times such as these, when everything is going to shit, my only hope is that the unyielding justice of this court can stand tall as a pillar of sanity and side-eye to all the dimwitted chaos the devil is raining down upon us. Welcome to Shade Court.
Taylor Lautner Doesn't Even Remember Saying 'Bella! Where the Hell Have You Been Loca?'
In this week's Shade Court, Naomi Campbell is untouchable, Nikki Haley is probably smarter than she looks and there is no Brangelina, so no need to ask.
Shade Court Docket #2016JZ000180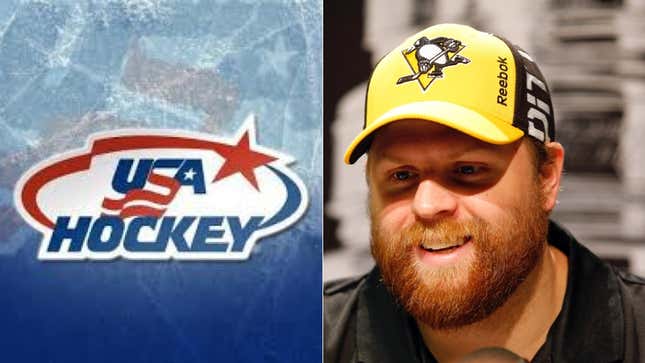 The Case: Did you know there's a World Cup for hockey? There is, and player by the name of Phil Kessel isn't too happy with how things shook out at the tournament. The USA men's hockey team lost to Canada, and I'm sort of wondering why that didn't seem inevitable, eh? With that loss, away went their hopes of winning a World Cup hockey medal, which sounds like a made-up thing.
Kessel is relevant here because, despite being pretty good at hockey, he didn't make the team's roster, and tweeted this after the loss:
The Defendant: USA Today
The Evidence:

The Deliberation: Let me draw your attention to this passage from the article:
So when the Pittsburgh Penguins winger lights up the room with a sick burn, you know you have to listen.
Yes, I'm generalizing here, but if you are a person who uses "sick burn" sans irony and with any frequency, you almost certainly know nothing about shade.
Additionally:
You see, Kessel wasn't even included on any version of the roster for the United States, despite scoring 26 goals last year — plus another 10 in 24 games on the way to winning the Stanley Cup — and potting 273 goals in his 750-game career. Kessel had hand surgery this offseason, so he wouldn't have been able to play. (The rosters were announced before the announcement that he needed surgery.)
I don't know too much about hockey but I do have hands. Even if they didn't know whether or not Kessel would need surgery, is it too much of a stretch to suggest that the USA Hockey team knew he had some sort of injury and surgery might be within the realm of possibilities? Seems like it!
None of that really matters, however, because the point here is USA Today dubbed what is essentially a pissy little tweet as shade. Like, OK, dude, you didn't make the team and you want everyone to know that you totally don't care. Next time, post an Instagram of you doing something else in the middle of the game. Wear a Canadian hockey jersey to the grocery store and makes sure paparazzi get a shot. PUT SOME EFFORT INTO YOUR SPITE, YA KNOW?
Mostly, I included this case because I need USA Today to do some serious soul-searching. I'm embarrassed for this headline and all who approved it.
The Ruling: Not shade
Shade Court Docket #2016JZ000181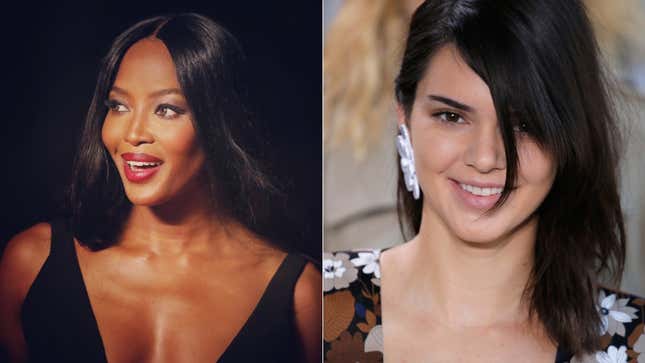 The Case: Kendall Jenner did a ballet-inspired shoot for Vogue España because nepotism and money always win. In a rather hilarious turn of events, ballet dancers and their advocates across the globe did not take kindly to Jenner's portrayal of their craft. Her Instagram was flooded with angry comments and complaints that what she's doing in the photos is "not ballet." Some argued that Misty Copeland should have done the shoot instead, which is fair because Misty Copeland should be doing everything.
As total coincidence would have it, Naomi Campbell felt it was good time to share this throwback photo:
The Defendant: Aminatou Sow

The Evidence:
The Deliberation: You cannot convince me that Naomi Elaine Campbell does not hold in her heart the deepest, most unabashed contempt for the Kardashian/Jenner clan. Need I remind you this is far from the first time she has directed her shady gaze towards these people?

The underlying issue of all her shade towards them is the suggestion that what this family is doing, at any point in time, is real modeling. Naomi Campbell was declared a supermodel when the word actually meant something. She hit those streets—dark skinned and rude as hell—and there was no stopping her because that walk, GOOD GRACIOUS, THAT WALK.
Naomi is reminding these youths, once again, that not only did she do it first, but she did it better, and with bone structure meticulously crafted by the hands of fashion angels. This response is also appropriate because Kendall Jenner, it must be said, is not a very good model. She's fine, but if she didn't have the last name and a tyrant for a mother, there would be no way in high holy hell she'd be out here gracing Vogue covers.
The Ruling: Shade

Shade Court Docket #2016JZ000182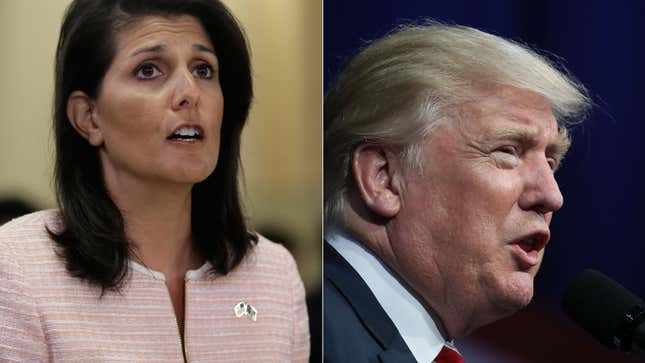 The Case: Nikki Haley is the governor of South Carolina and an awful, awful person. It makes sense, then, that her taste is music is almost as bad as her disgusting revisionist history. This week, Haley decided to ruin the mornings of all who follow her on Twitter by suggesting they listen to that pandering, horrifically sanguine song you can't get out of your head.
Curiously, "Fight Song" also happens to be the theme song of the Hillary Clinton campaign.
The Defendant: Josh Barro
The Evidence:
The Deliberation: On a related tangent, if Hillary Clinton really wanted to nip this election in the bud, she would have chosen "Pony" as her theme song and called it a day.
The shade conundrum here depends on how dumb you believe Nikki Haley to be. I don't actually think she's a complete idiot, because she did manage, as an Indian woman—which by the way, she is no matter how much she tries to cloud that fact—to become the Governor of South Carolina. Her views are abhorrent and she's an unbelievable opportunist who is fooling no one, but she ain't dumb.
Therefore, like anyone with a single functioning brain cell, she knows that Donald Trump should not be President of the United States. Now, can she say this out loud in plain English? No, she cannot because she is a Republican and those cowards fall in line no matter what idiot racist, xenophobic, incompetent dictator-to-be is on their ticket. Like all her cowardly brethren, Nikki Haley has admitted she'll be voting for Donald Trump, but I think it's appropriate to take this as a subtle sign of dissent from someone who, three months from now, will almost certainly be backtracking.
I somewhat loathe to give "shade" stamp because this dude is flagrant with the word, and is usually wrong, but the facts have to speak for themselves in the court of shade.
The Ruling: Shade
Shade Court Docket #2016JZ000183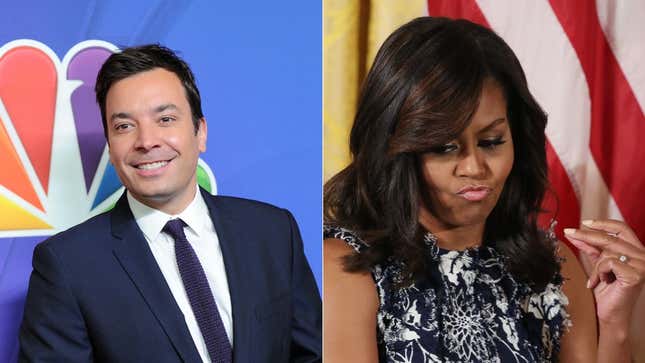 The Case: I know you all thought I would be tackling the case of Michelle Obama vs. Melania Trump, but, like me, life is a bitch and sometimes it just wants things to be difficult. Instead, I'll be focusing on Obama vs. Fallon, a moment that slipped through the cracks in exactly the manner that Michelle intended it to.
The Defendant: Ben the tipster
The Evidence: The moment begins around 4-minute mark.
Here's the meat:
"I'm so grateful for your support not just yesterday, but on everything you do. On issues that you don't just speak out on, you just don't make us laugh but you know about these issues and you care about them."
The Deliberation: DO YOU SEE? DO YOU SEE WHY THIS IS THE PEARL OF SHADE THAT REALLY MATTERS WHILE EVERYONE HAS BEEN DISTRACTED BY THE DUMB OYSTER?
Let's be honest, the Melania dig was a setup, a touch elementary, and not her best work. Anything she said or did was going to be construed as shade against Melania, and because Michelle Obama has liquid class pulsing through her veins, she wasn't going to come out and say anything too vindictive or snarky no matter what.
But this. God that was slick. You don't just make us laugh. She delivered that line with a sniper rifle from a mile away. The translation is: Thank you for not being a spineless court jester under the guise of entertainment because, waaaah, it's too hard to act like a bad person is bad.
Michelle is operating on a whole other level here and it is honestly a thrill to witness.
The Ruling: Shaaaaade