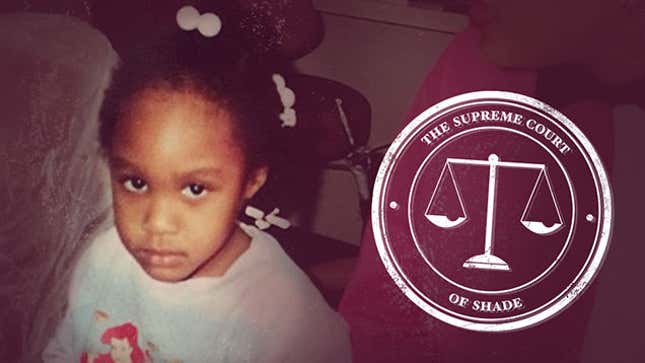 The goal of Shade Court has always been to right the incessant wrongs that are committed in the name of shade. However, this week, with 2014 quickly coming to an end, it seemed like an excellent time to take a look back at some of the actual and truly exceptional instances of shade that have occurred over the past year.
---
I. Mariah Carey Shades Ariana Grande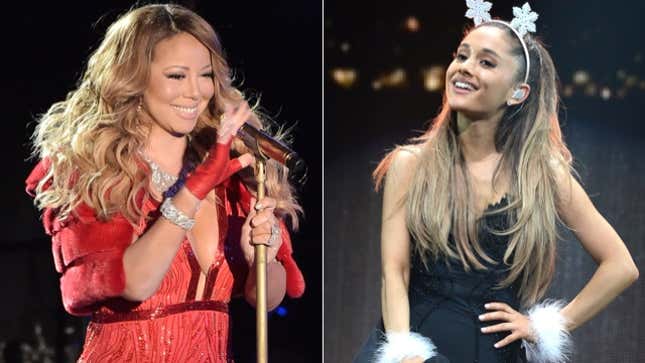 Let's be honest, Mariah Carey didn't exactly have a great year. On top of that, Ariana Grande had what I can comfortably call a breakout year, which resulted in constant comparisons and declarations that she is "the next Mariah Carey." No offense to Ariana Grande—she does have a great voice—but those comparisons have no business being made and we all know it. Mariah Carey is already shady as hell, just as a personality trait, so we knew this would happen eventually.
During a radio interview when asked about Ariana Grande, Mariah responded:
I wish everybody all the best of luck and if this is the career path they choose, hope that they can achieve longevity.
Notice how she won't even say Ariana Grande's name. What attention to detail! I also love how she says, "if this is the career path they chose," because obviously Ariana has already chosen this career path. That "if" is Mariah Carey's way of saying: Oh so you really want to do this? Like, for real?
Plus, wishing someone who is already fairly successful good luck essentially lets them know that whatever they've accomplished at this point means very little, so good luck kick-starting a real career.
---
II. Naomi Campbell Shades Kanye West and Kim Karadshian's Vogue Cover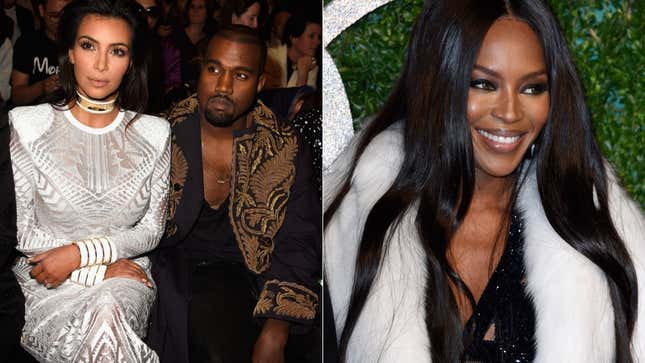 Kanye and Kim finally got their long begged-for Vogue cover in April; reactions were mixed. In a television interview, Naomi Campbell was asked what she thought of the cover. Campbell responded: "I do not want to comment," which was shady enough on its own before she then burst out laughing.
When asked why she wouldn't comment, the supermodel said:
Because I'm a fashion model and I've been working for 28 years. And when you get a Vogue cover it's a build in your career, it's a stepping stone to achieve that And, you know, .. and you I'm a fashion model. What more can I say?
The fact that she repeatedly referred to herself as a fashion model was perfect; the reference to her career was obviously shade thrown at Kim. When pressed again, Naomi deferred to Shade Savant Anna Wintour by demurring that she had to respect Wintour's decision to put the couple on the magazine. We later learned that Anna didn't even really want Kimye on the cover. I don't know for sure if Naomi Campbell knew that at the time, but I like to think that she had at least a clue, because that pushes this into all-time greatest shade territory.
---
III. Steve McQueen Shades John Ridley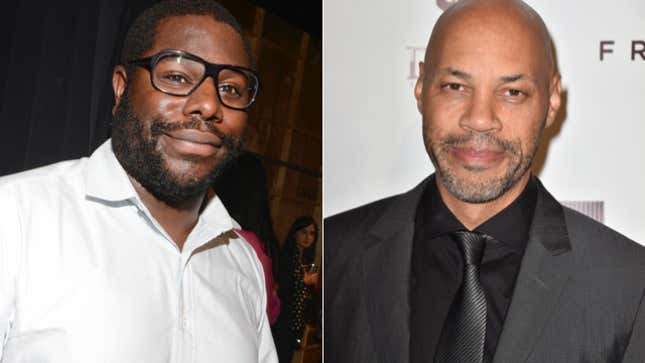 12 Years A Slave was one of the most talked-about films of 2013 and 2014, but many might not have known about the ongoing feud between the film's director, Steve McQueen and screenwriter, John Ridley. The rift between the two apparently developed over a disagreement about the script's writing credits. Ridley ended up winning the Academy Award for Best Adapted Screenplay and when he went up to collect his Oscar, this is what Steve McQueen did:
Gif via AV Club.
So, yeah, technically he's applauding, but he doing it like a surly circus seal. The condescension in that clap is damn near majestic.
---
IV. Beyoncé Shades Kanye West and Kim Kardashian's Wedding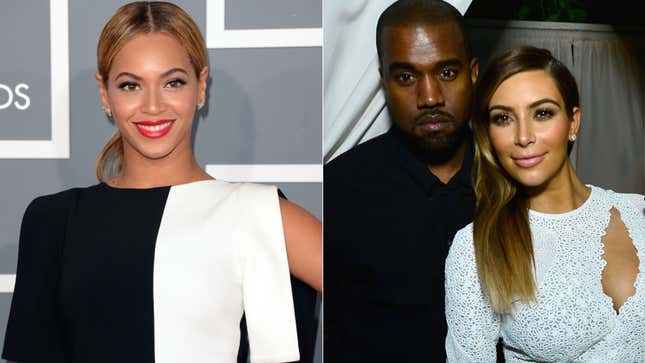 In a move that surprised absolutely no one, Kimye made a big fucking deal about their April wedding. The guest list was extensive and with the couple's obsession with celebrity, we knew that it would include more than a few famous names. The big question was whether or not Beyoncé and Jay Z would be attending, The two couples have seemed casually friendly, but not particularly close, at least as far as we can tell from Instagram, paparazzi photos, and Beyoncé's Tumblr.
Many speculated that if Jay and Bey didn't attend the nuptials, it would likely be because they had some sort of conflict or scheduling issue. Well, we got our answer when Beyoncé posted this picture to Instagram on the day of the wedding:
You know what Bey and Jay were doing on the day of Kanye and Kim's wedding? Not a damn thing and Beyoncé sure let you know it. Girlfriend couldn't attend the wedding because she was too busy hanging out in the Hamptons taking selfies. The fact that she posted the photo on Instagram, which is basically Kim Kardashian's bible, is the cherry on top of this shade sundae.
---
V. Nicki Minaj Shades Iggy Azalea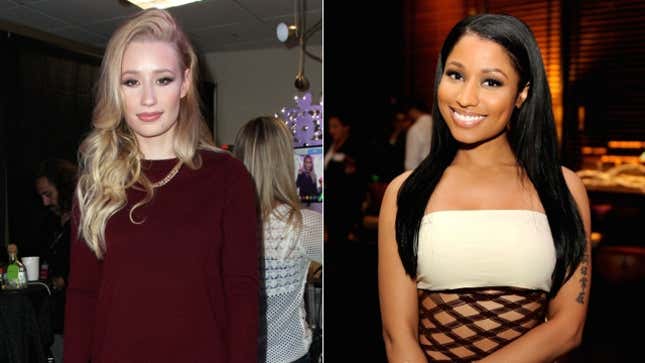 I'm pretty damn certain that Nicki Minaj (understandably) hates Iggy Azalea. In June, Nicki beat out Iggy for Best Female Hip Hop Artist at the BET Awards and used her speech to throw shade at Iggy and let everyone know exactly what she thought of her. When accepting the a ward, Nicki declared:
What I want the world to know about Nicki Minaj is when you hear Nicki Minaj spit, Nicki Minaj wrote it.
Ostensibly, she's just talking about herself, but really, she's making a stark comparison between herself and Iggy who reportedly uses ghostwriters to write her songs. Nicki kinda fumbled the rest of the speech by insisting that she meant "no shade" over and over when she clearly meant it to be shade, but I'll let that go since the original line was so perfect.
---
VI. Martha Stewart Shades Gwyneth Paltrow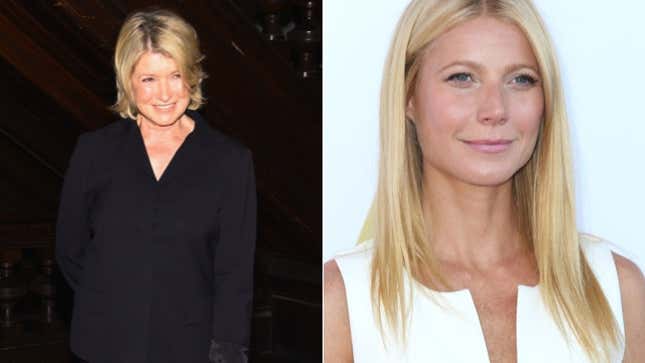 Martha Stewart brilliantly used a magazine spread about Thanksgiving pie to remind Gwyneth "Goopy Goop" Paltrow that there's only room for one blonde domestic diva with control issues.
The November issue of Martha Stewart's eponymous magazine included a piece titled, "Concious Coupling," a thinly-veiled reference to Gwenthy's "conscious uncoupling" divorce announcement.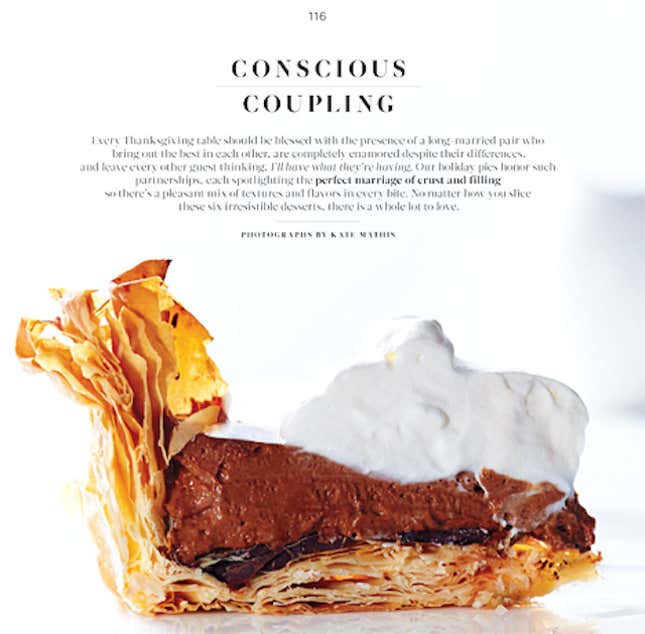 As I've said before, it is especially delicious that this is an article about pie, because you know Gwenyth Paltrow doesn't eat pie.
---
VII. Aretha Franklin Shades... Everyone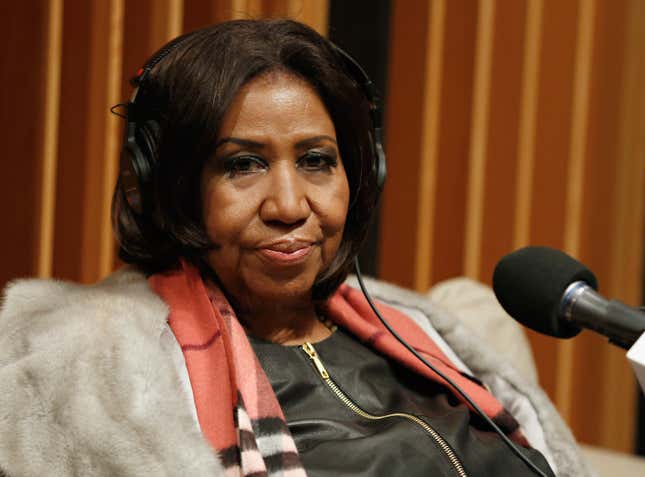 I would say a good 60 percent of Aretha Franklin's year was spent throwing shade. She is the Queen of Soul and at 72 years old, Aretha Franklin doesn't give a fuck. She spent part of the year promoting her latest album, Aretha Franklin Sings the Great Diva Classics, which meant that she had to sit through countless interviews and answer whatever inane questions were thrown at her.
Instead of sucking it up and putting on a pleasant face, Ms. Franklin basically let everyone know that she didn't give a damn about them or their little television programs. Aretha went on a shade-a-thon. As Mark noted at the time, the highlight was Aretha the Diva asking a reporter to repeat what was obviously a stupid question three times because apparently she "couldn't hear the question," before refusing to even answer it.
There was also this gem of a quote about what she thought of Taylor Swift: "great gowns, beautiful gowns." Full stop. There's a reason she's the queen.
---
VIII. Teresa Giudice Shades Melissa Gorga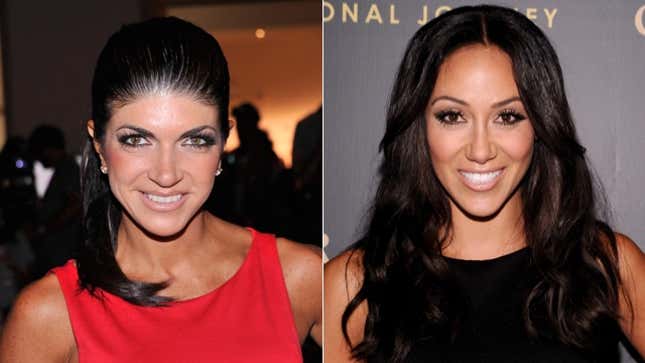 Future inmate and Real Housewives of New Jersey star Teresa Giudice has had an ongoing feud with her sister-in-law and fellow Real Housewife, Melissa Gorga. The origins are murky, but they both point to an incident on one Christmas Eve that was a pivotal moment in their on-and-off hatred of one another.
As the story goes, Teresa was apparently very offended when Melissa brought over store-bought sprinkle cookies instead of whatever overpriced, fancy cookies Teresa wanted. The cookies also came with a card congratulating Teresa on "her redone house." Melissa shaded Teresa beautifully and although they both claim to have gotten over it, they probably definitely didn't.
So, with that in mind, what is the newest addition to Teresa's brand of Fabulicious foods?
Fucking sprinkle cookies. Sprinkle cookies.
The slow burn of this shade is downright impressive. Think about how long Teresa had to wait and all the things that had to happen for this to be possible. She had to build an entire brand in order to throw the delusional indignity of sprinkle cookies back in her sister-in-law's face. Brava.
Shade on, 2014. We'll see you in the new year.
Images via Getty. Top image by Tara Jacoby, featuring the shade artist at a young age.