Having hoped to precede Texas' and Arizona's big rattlesnake-skin-cowboy-boot footsteps, Indiana seemed poised in 2011 to deny Planned Parenthood Medicaid funds because the organization performs abortions. Then U.S. district judge Tanya Walton Pratt issued an injunction blocking parts of Indiana's law last summer. On Friday, a federal hearing officer at the Centers for Medicare and Medicaid Services in Chicago further blocked Indiana's anti-abortion scheming when he determined that the changes in Indiana's Medicaid plan denied women the right to choose their healthcare providers, which at least momentarily halted Indiana's efforts to choke off funding to Planned Parenthood.
The AP reports that CMS hearing officer Benjamin Cohen dealt a blow to Indiana's Medicaid law, writing that it violated the federal requirement that individuals must have the freedom to obtain care from any qualified provider. Just because an organization such as Planned Parenthood provides care that isn't covered, i.e. abortions, doesn't give Indiana the right to deny funding. Betty Cockrum, the chief executive officer of Planned Parenthood in Indiana, issued a statement conveying her organization's general relief at the CMS' decision:
Through its appeal, the state was continuing its attack on women's rights and attempting to restrict access to basic, lifesaving services such as Pap tests, breast exams, STD testing and treatment, and birth control.
Cockrum says that about 9,300 women in Indiana rely on Planned Parenthood for their healthcare, a figure that made no nevermind to the State's push to restrict Medicaid funding. Indiana had argued back in 2011 that Medicaid funds directed to Planned Parenthood would indirectly subsidize abortions — something that doesn't actually happen — and thereby violate the Hyde Amendment of 1976, which bans federal funds for abortion except in cases of rape, incest, or a threat to the life of the mother. At the time, Indiana intimated that Planned Parenthood could continue to receive Medicaid funds if it established separate entities for abortion and other healthcare, but the CMS said that such a palliating gesture was premature because Indiana can't simply go ahead and violate the rules of Medicaid funding.
Last August, Indiana asked the seventh U.S. circuit court of appeals to lift Judge Pratt's injunction against certain key parts of its abortion law, though the court has not yet made a decision on the appeal. In the meantime, Indiana had asked the CMS to also reconsider Pratt's ruling, and, finding its ambitions of Planned Parenthood conquest foiled, can now only hope for a do-over of the CMS panel's latest decision as it awaits the outcome of its appeal.
G/O Media may get a commission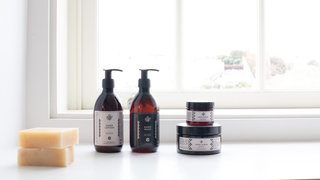 Exfoliate and Hydrate
The Handmade Soap Company
Indiana bid to cut Planned Parenthood funds blocked by Medicaid official [AP via The Guardian]