Just in case you're under the impression that if you lived life as a man, your days would be free of the burdensome weight of having to be attractive, stop, drop and roll because that is certainly not the case. The latest concern for men is whether or not they are beardly enough.
According to this article in the Daily Mail that's substantiated by a lot of highly scientific data i.e. an interview with one plastic surgeon, the number of men in the United Kingdom who have been choosing to get beard transplants has "rocketed" over the year. One doctor who did the first facial hair transplant way back in the '90s says he has seen "a six-fold year on year increase in the amount of men having surgery to boost their facial follicles over the last five years." Those numbers don't lie!
Who should we fault for this growing proliferation of men who cry at night onto their smooth faces or substandard beards? Firstly, celebrities, like Brad Pitt or David Beckham, who are prized for their luscious facial locks. Also apparently this dude Jeremy Paxman, a host for the BBC show Newsnight who is a man who typically appears clean shaven but last week shocked the United Kingdom with his new summer beard.
Paxman has gotten so much attention for his facial hair that he wrote an entire piece for the Telegraph about his change, entitled "It's only a beard but it's a big burden." In his essay, Paxman wrote that he has briefly "been a poster-boy for a shadowy group called the Beard Liberation Front, which claims that facial hair invites discrimination" and that he has gotten much more attention on the street because of his new face-cover:
After the Twitterstorm that followed Monday's Newsnight, one lot of facial topiary after another called out "good on yer!" or "don't shave it off!" as I walked down the street.

I suppose Freemasons must experience a similar thrill as they exchange secret handshakes.

I had joined a section of society that I fully expect — indeed I demand — merits the sort of legal protection accorded to other minorities.
Paxman does have one serious and valid point to make: this beard fascination truly rests on the shoulders of the media. We are the problem. With this and this and this and this, we're making the world a more dangerous place for men who should be accepting and loving their faces just the way they are.
G/O Media may get a commission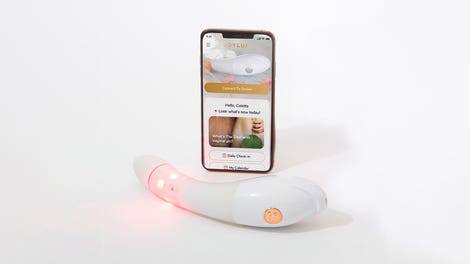 $50 Off
Joylux vFit Gold Device
We're sorry. We'll try to be better.
For a more serious look at men dealing with with body image issues, see this piece in the Atlantic about "the Tyranny of Buffness" among gay men. Or just read about the growing popularity of male butt implants.
Beard implants growing on us! Number of men opting for 'transplants' up six-fold in past five years [Daily Mail]
Images via Getty