In August, Selena Gomez announced she was taking some time off to recharge, refresh and rejuvenate – 90 days to be exact. And, like a smart cookie, she apparently spent those 90 days without her cell phone. Wait, really?

"I recently took 90 days off," Gomez said during a Q&A. "During that time I did not have my cellphone. It was the most refreshing, calming, rejuvenating feeling. Now I rarely pick up my phone, and only limited people have access to me."
The self-imposed break was to address anxiety, depression and panic attacks stemming from her lupus and it is fantastic that she recognized that she needed to take care of herself and made the steps to do so. I'm just curious as to what she did without her phone for three months.
What if she needed to talk to her mom? What if someone needed to reach her? Did she really just use a landline for 3 months and now only engages with her phone when it buzzes for a very specific reason? Should we all just throw our phones down a very deep well and return to princess phones and answering machines?
When asked what she does now instead of refreshing Twitter and idly double tapping pictures on Instagram, Gomez said that to fill the time in between being a famous person, she relies on "self-affirmations in cooking or napping!"
G/O Media may get a commission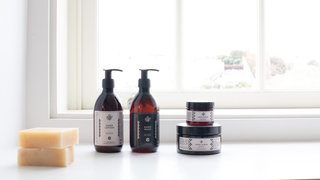 Exfoliate and Hydrate
The Handmade Soap Company
Stand in your truth, Selena. Good for you.
---
Attention: please do not spend one minute of your time worrying about Mariah Carey. She is doing just fine. Like, better than fine. Really great actually. Spectacular!
Us Weekly reports that Mimi and her new young thing, backup dancer Bryan Tanaka were in Hawaii frolicking in the waves like dolphins in love. As per an "eyewitness:"
"They were all over each other, making out and not wanting to be more than a few feet apart...They swam in the ocean and he picked her up to kiss her. She was jumping into his arms, and he bent her back over his knee like they were dancing. Then they walked on the beach holding hands, and he gave her a piggyback ride. They had a lot of fun together and were very playful. She was kicking up the water to splash him, and he was laughing."
Told ya!
---