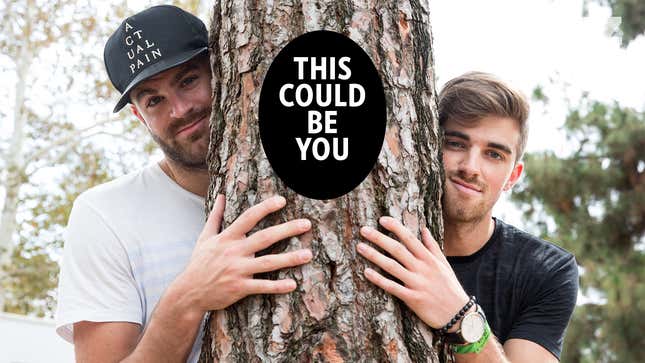 My long-standing embargo on learning anything about the Chainsmokers has been lifted. Not only do I now know what they look like (two handsome-ish white men, exactly what I expected), I now also know their names (Alex and Drew, also exactly what I would have guessed). But most importantly, and what led me to lift said embargo, is the reveal that they have had multiple threesomes with fans (again, something I would have bet on without knowing anything else about them).
Taylor Swift's Rep Thinks You Need to Calm Down About Her Private Jet
On Wednesday's Call Her Daddy podcast episode, the electronic duo—Alexander "Alex" Pall and Andrew "Drew" Taggart—bashfully admitted to engaging in a number of ménages à trois over the years, specifically while they were touring in Europe. Could that possibly be what their song "Paris" is about? After all, it does have the lyrics, "If we go down then we go down together." For the sake of those fans, I hope so.
From the start of the interview, it seemed that Chainsmoker #1 (Taggart) was angling for this topic to come up. At one point early on in the interview, he asks Cooper if she's ever hooked up with any of her fans. Cooper dismisses the question, saying "no" because most of her fans are women (and she is, famously, straight). However, some of those women have given her dildos that she uses to this day. But she sadly does not reciprocate the question for like 40 more minutes.
After describing their fans throughout the episode as "passive," "chill," "so pleasant," and "passive" again, I have to wonder just how buckwild the Chainsmokers' sexual escapades actually are?! But then again, why do I assume threesomes are salacious romps?! Perhaps these were tender and intimate, unlike any of the music the Chainsmokers have ever put out. The duo clarified that they've never hooked up with a superfan or anyone actively wearing any of their merch—just simply people at their concerts.
Lest you be worried, Alex and Drew said that these sexual encounters together have not affected their musical relationship. But might I suggest that they do let it affect their music?? Maybe some sexually charged jealousy is just what their songs need to bring them to the next level of artistry (or at least to make me care about them...). I mean, was Rumors not Fleetwood Mac's best album?!
I can't say the Chainsmokers music stirs particularly sexual feelings within me, but I commend the enthusiastic fans who've felt differently and found an outlet for that. I imagine that, consensually, this must be the ultimate VIP fan experience.