I want to preface this post by saying there's nothing in my soul that needs Stevie Wonder to not be blind. I was having a fine life assuming his sight had eluded him as much as it's been made out to have done, and that his disability has in all likelihood made his music that much richer melodically (if not extremely clever, as in the case of "Isn't She Lovely," which incorporated sounds of his then-newborn daughter Aisha Morris thus displaying to a largely seeing audience how Wonder perceives his daughter's loveliness). I love and accept Stevie Wonder as is—detached retinas and all.
But sometimes when the universe tells you, "Stevie Wonder isn't blind!!!" over and over and over again, you have to at least take the call.
There's a silly, albeit undeniably compelling at times, strain of trutherism that cites a multiple of public instances suggesting that Stevie Wonder isn't as blind as he's been made out to be. Wonder himself has seemed to have a great sense of humor about it, playing into the rumors by telling TMZ, "In this year, I would reveal the truth," in apparent (and apparently tongue-in-cheek) reference to his actual ability to see.
The latest development in this saga found Sean "Diddy" Combs straight-up telling Jimmy Kimmel that Stevie Wonder can see. Literally this is the man's claim.
G/O Media may get a commission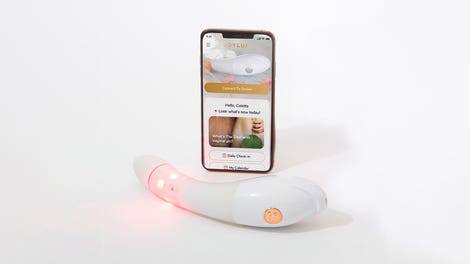 $50 Off
Joylux vFit Gold Device
It happened during Monday night's interview on Jimmy Kimmel Live, as Kimmel asked Diddy about his candy room (it is what you think it is). In response to the question as to whom the most famous person to have entered this room in one of Diddy's dwellings, Diddy said it was Stevie Wonder.
"Like, did you tell him which candies were there?" asked Kimmel, cloddishly referencing the legend's blindness.
"Man, I mean, the way Stevie moves, he just go and he knows what he wants," replied Diddy. "You never seen Stevie doing that. You know, like he doesn't know where he's going." Diddy said this as he was motioning with his arm out, the way someone with impaired vision might stereotypically feel around his or her surroundings.
"He always knows where everything is?" asked Kimmel.
"Yeah, he'll tell you what you have on," said Diddy. "For real. I mean, he's literally told me."
"Has he really?" continued Kimmel. "He knows like what the material is or what the designer is?"
"I mean, he'll explain what he sees," said Diddy, with absolutely no reference to Stevie Wonder's legendary blindness!!!!!
"Oh really?" said Kimmel.
"Yeah," said Diddy, reconfirming his lack of experience with Stevie Wonder's legendary blindness!!!!!
"And is he right or will you just tell him he was right?" said Kimmel. "'Amazing, Stevie, you did it again! Yeah, I'm wearing my Ghostbusters jumpsuit!'"
"Nah, no," said Diddy. "He's right. He'll say you have on a blue suit and a blue white-striped tie right now."
So there you have it, from Sean "Diddy" Combs. Stevie Wonder will tell you what he sees. He's either telling the truth or taking part in some intricate prank. Either way, our world is rocked.