In a strange speech to a group of pastors, the superintendent of the Jersey City schools named his district's biggest problem: "young ladies."
According to NJ.com, Superintendent Charles T. Epps Jr. said,
Our worst enemy is the young ladies. The young girls are bad. I don't know what they're drinking today, but they're bad.
He added that he was impressed with the dedication of the district volunteer mentors, who had "signed up to help even the dirty, nasty, bad kids." Epps's willingness to publicly disparage the morals, hygiene, and consumption habits of his students is pretty bizarre, but so was the reaction of one of his audience members. Pastor Joyce Watterman of Continuous Flow Christian Center said that "global oppression of women" might make girls act out. She explained, "It affects our young girls, too, so that when we rise up, we sometimes overdo it." I guess rebellion against worldwide sexism is a better explanation for girls' misbehavior than just plain "badness," but neither seems like a very effective response to classroom problems.
Later, Epps "clarified" his statement, saying he was speaking "metaphorically." So I guess the girls of Jersey City are metaphorically bad, and Charles Epps went to the John Kyl School of Public Relations.
G/O Media may get a commission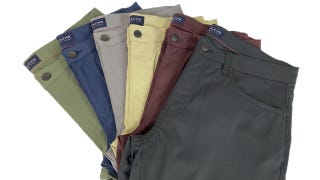 JACHS NY Fall Stretch Tech Pants
Jersey City Schools Chief Says 'Young Ladies' Are Community's 'Worst Enemy' [NJ.com]