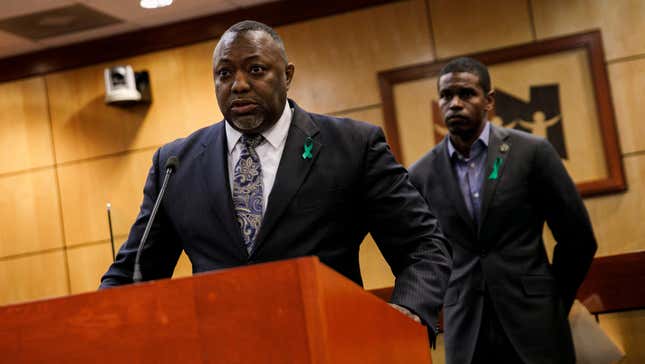 Last week, in Newport News, Virginia, a 6-year-old boy pulled out a loaded gun in his first grade classroom and shot his teacher, Abigail Zwerner, in the chest. Thankfully, Zwerner not only survived the attack and is in stable condition, but managed to "make sure that every one of [her] students was safe" before getting help herself. As if this incident couldn't get more upsetting, Superintendent George Parker revealed Thursday night that a school administrator had been made aware that the student had a weapon in his possession and failed to confiscate it before the shooting.
According to the Associated Press, the administrator at Richneck Elementary School "did not seize the 9mm handgun [the child] brought to his classroom."
"At least one administrator was notified of a possible weapon in the timeline that we're reviewing and was aware that that student had, there was a potential that there was a weapon on campus," Parker told parents in an online meeting.
Why then, we are all left wondering, was it not immediately confiscated? And who notified the administrator about the weapon? Those details remain unclear. What is also unclear is the legal fate of the young boy and who will bear the responsibility of this horrific crime. The handgun he used to shoot Zwerner belonged to his mother, who had obtained it legally. In the state of Virginia, it's a misdemeanor to allow a loaded handgun to be accessible to a minor under 14 years old.
When the story first broke, police chief Steve Drew said that the boy brought the weapon to the school in his backpack and that the shooting was intentional. The boy is currently being held at a medical facility following an emergency custody order.