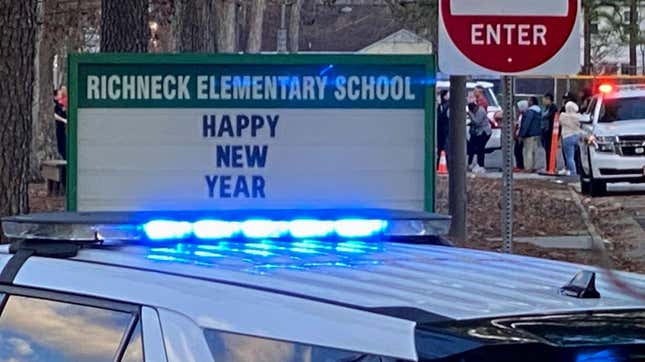 Last week, a 6-year-old boy at Richneck Elementary School in Newport News, Virginia, pulled out a gun in the middle of class and shot his teacher, Abigail Zwerner, in the chest. Zwerner, 25, survived the shooting and remains in stable condition at the hospital, the New York Times reports. But police revealed new details on Monday about the gun and how the child ended up with it.
Politician Cites the Constitution to Eviscerate Gun Supporters
The 9-millimeter Taurus handgun, police chief Steve Drew told reporters, was legally purchased by the child's mother. "The child had obtained that firearm, placed it in his backpack and brought it to school," Drew said. The child's family has not yet been identified.
While it's unclear what charges will be made in this case and against whom, Virginia law states that it's a misdemeanor to leave a loaded gun accessible to a child under 14.
Drew confirmed that the child intentionally shot his teacher. The bullet went through her chest, leaving her with life-threatening injuries. Before she stumbled out of the classroom for help, he said, she "turned around to make sure that every one of those students was safe."
"I believe she did save lives," he continued, "because I don't know what else might have happened."
While mass shootings and school shootings, in particular, have become terrifyingly common in this country, George Parker III, the superintendent of Newport News Public Schools, said the public school system was obviously not prepared to deal with armed 6-year-old children. "We've addressed metal detection, random searching and all kinds of other things at the secondary level," he said. "I'll be honest, who would be prepared for a 6-year-old to bring a loaded weapon to school and shoot their teacher?"
Parker said he doesn't want schools to feel like a "prison," but he's now considering implementing metal detectors and other measures in elementary schools. "I hate to be at this point where I'm considering this, but we have to start relying on those types of deterrence at the elementary level as well."
Of course, it would be even more helpful for this country to do something about easy access to firearms. As one outraged mother of a Richneck Elementary student said after the shooting: "The problem is the bloody guns. I'm only here because my husband is in the military. Otherwise I would not have chosen to come to this country."