On March 8, millions of women around the world took to the streets to celebrate International Women's Day. Protestors advocated for women's rights, equal pay, reproductive freedom, healthcare, labor rights, clean air and water, and pressing local issues that disproportionately affect women, their families, and their communities.

These actions, each deeply embedded in local activism, took different shapes: In Italy, a transit strike backed by unions and women's rights advocates left metro lines halted and international flights canceled. In the United States, women targeted the headquarters of Immigration and Customs Enforcement, boosted local unions, and targeted lawmakers. Across Spain, millions of women took part in a 24-hour strike.
Whether they were fucking up national transit networks or taking an afternoon off to stand in protest alongside their communities, millions of women all over the world came out in full force to say they were sick of the bullshit and are ready to fight.
A day, in pictures:
Madrid, Spain
Women spilled into the streets of Madrid in protest on International Women's Day and as many as 5.3 million Spanish women participated in a 24-hour strike. The gender pay gap in Spain has reached 19 percent in the private sector.
G/O Media may get a commission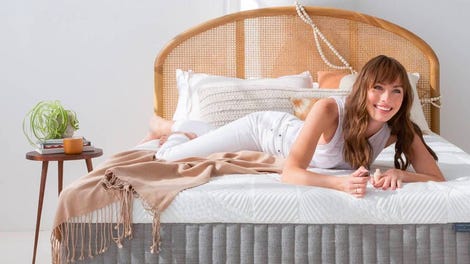 Sleep Sale
Sleep Sale - Brentwood Home
Miramar, Florida, United States
Protestors gather outside the ICE headquarters in Florida, demanding an end to the cruel machinery of deportation in the United States.
New York, New York, United States
A crowd gathered in Washington Square Park to strike, listen, and march. Teachers, nurses, sex workers, and transgender activists were among the many marginalized women—predominantly women of color—who spoke at the event calling for action to support local labor drives, teachers, and legislation for universal healthcare that is currently being held hostage by a conservative coalition in the state Senate.
Chicago, Illinois, United States
Protestors supporting the #Fightfor15 holds a sign that says, "WTF McD's: If you really want to 'celebrate' women PAY THEM FAIRLY;" the only good take to McDonald's attempt to capitalize on International Women's Day.
A #Fightfor15 supporter rockin' some A+ protest gear at the same rally. The #Fightfor15 is a movement demanding a $15 national minimum wage, which has been frozen at $7.25 since 2009. An annual salary on the current national minimum is just $15,080; the federal poverty level for an individual in 2017 was $12,060.
Stamford, Connecticut, United States
Organizers of the Connecticut Women's Strike joined forces with Stamford's Hilton Hotel workers, who fought and won a landslide union victory in December and turned out to march again on Thursday.
Istanbul, Turkey
Activist group Istanbul Feminist Collective led a march calling for an end to the mighty trifecta of patriarchy, militarism, and capitalism.
London, United Kingdom
A woman holds a sign urging the nation to "Close the gender pay gap," a play on the famous automated "Mind the gap" warning on London Underground train cars. Her sign also says "Support UCU," referring to the University and College Union, comprised of lecturers currently striking and demanding fair pensions.
Protestors at the same rally hold up signs that read "Speak up for women who can't" and " Woman ≠ Mother, Houseworker, Wife."
Chiang Mai, Thailand

Women with disabilities participated in an International Women's Day march, promoting visibility of a demographic that is still largely ignored by mainstream women's rights advocacy.
Athens, Greece
Hundreds of women filled the streets of Athens with signs advocating for equal pay and an end to street harassment.
Manila, Philipines
International Women's Day in the Philipines doubled as a protest against their president, Rodrigo Duterte, the country's authoritarian president who has cheered the killings of people suspected of drug offenses. Many of the protesters are members or supporters of GABRIELA, a leftist Filipino organization that advocates for women's issues and tackles poverty, censorship, and violence.
A global strike, across geographies, languages, experiences, and time zones: This is what solidarity fucking looks like.