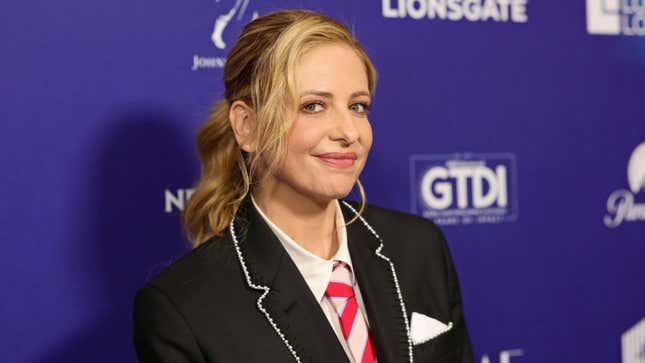 Sarah Michelle Gellar, the queen of our teenage years, is giving us permission to watch Buffy the Vampire Slayer again.

'Bridalplasty' was the Frankenstein's Monster of Reality Shows
In 2020 and 2021, the show's creator and nerd-fandom darling, Joss Whedon, was accused by numerous actors of hostile and toxic behavior on set, including an allegation that one actor was fired for daring to have a baby. But in an in-depth interview with The Hollywood Reporter published Wednesday, Gellar said that she hopes Whedon's behavior hasn't ruined Buffy's coming-of-age story for too many people.
"I'm not the only person facing this, and I hope the legacy hasn't changed," Gellar told The Hollywood Reporter. "I will always be proud of Buffy. I will always be proud of what my castmates did, what I did. Was it an ideal working situation? Absolutely not. But it's OK to love Buffy for what we created because I think it's pretty spectacular."
What exactly got us to a point where watching Buffy felt like a betrayal that Gellar had to mend? While Buffy actors weren't the first to accuse Joss Whedon of on-set abuse, it was Charisma Carpenter's allegations that sent shockwaves throughout the industry. In February 2021, Carpenter, who played Cordelia Chase, spoke out in support of Justice League actor Ray Fisher, who had previousl gone public with his allegations of "abusive, unprofessional" behavior against Whedon. Carpenter said Whedon "callously call[ed] me 'fat' to colleagues when I was 4 months pregnant, weighing 126 pounds" and asked her if she was "going to keep" her pregnancy. When she was six months pregnant, Carpenter said she was asked to report for call times as early (or late) as 1 a.m., and the stress would cause Braxton Hicks contractions, also known as false labor. She was fired after giving birth. Carpenter later participated in the WarnerMedia workplace investigation into Whedon's behavior.
Carpenter's candor led co-star Amber Benson to say that Buffy was a "toxic environment" to work in.
Gellar, to her credit, immediately released a statement in solidarity with her coworkers. "While I am proud to have my name associated with Buffy Summers, I don't want to be forever associated with the name Joss Whedon. I am more focused on raising my family and surviving a pandemic currently, so I will not be making any further statements at this time. But I stand with all survivors of abuse and am proud of them for speaking out," Gellar wrote.
Michelle Trachtenberg, who starred on Buffy when she was a minor, re-posted Gellar's statement, thanking Gellar for it, and writing in her caption: "This must. Be known. As a teenager. With his not appropriate behavior....very. Not. Appropriate. So now. People know. What Joss. Did. The last. Comment I will make on this. Was. There was a rule. Saying. He's not allowed in a room alone with Michelle again."
Gellar told THR that she's unlikely to make any more public statements about Whedon, or her time on Buffy. "I'll never tell my full story because I don't get anything out of it," she said. "I've said all I'm going to say because nobody wins. Everybody loses."

She stepped back from the spotlight in the mid-2000s to raise her two children with Freddie Prinze Jr., but a generation's love for Buffy The Vampire Slayer meant she's been thought of very fondly since. (That, and her incredibly campy turn as Daphne Blake in the live-action Scooby-Doo movies.)

Buffy Summers was a girl who just wanted to be a cheerleader, but instead, fate had her slaying vampires and failing math. Up until her battle with depression and the sexual assault storyline in Season 6, Buffy was a comforting friend. And now, Buffy herself says it's OK if you want to watch Buffy clutching Mr. Pointy.
But if you can't bring yourself to watch the show again, I get it. Luckily, Do Revenge is waiting there, ready to bring you a SMG fix.