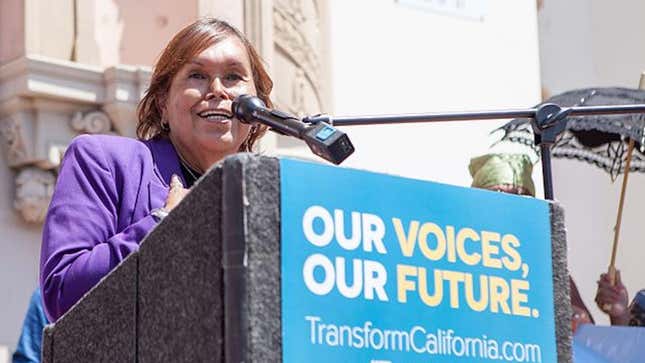 An activist, historian, entertainer, and longtime fixture of San Francisco's LGBTQ+ community, Felicia Elizondo died on Saturday. She was 74.

Friends of Elizondo, also known as Felicia Flames, who spoke to The Bay Area Reporter celebrated the trans woman and long-term survivor of HIV/AIDS for her buoyant spirit, unbreakable sense of self, and indefatigable dedication to her communities.
"She'd always say, 'I'm a diva, I'm a bitch, I'm an icon, I'm a legend, and I'm your history,'" Luis Gutierrez-Mock, who organized the San Francisco Trans March with Elizondo in the past, told the outlet. "She was always down to raise money for friends, HIV prevention, and the trans community... What I remember about Felicia are her performances and how giving she was of her time and energy."
Born in San Angelo, Texas, in 1946, Elizondo had been living in San Francisco since 1993, though she came to the city off and on beginning in the early 1960s and spent a lot of time at Compton's Cafeteria, the site of a long-forgotten trans-led uprising against police brutality in 1966. If you have some time this evening, I really recommend reading and watching every interview you can with her like Susan Stryker and Victor Silverman's 2005 documentary, Screaming Queens: The Riot at Compton's Cafeteria, and this 2018 Vice interview with Emmy-nominated producer and artist Zackary Drucker. Elizondo's first-hand account of the past 74 years is invaluable and should not be forgotten.
"Don't forget the people who made it happen. Don't forget that all those people that died," Elizondo told Drucker in the aforementioned Vice interview. "That's why I tell the kids: I am your history. You can never change that no matter what you do to me."