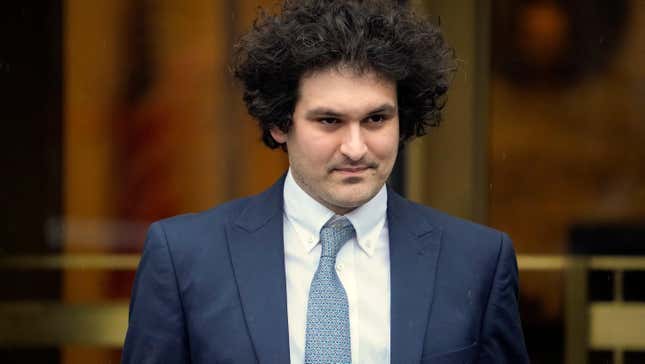 Eccentric fraudster Sam Bankman-Fried (also known as "SBF") of the cryptocurrency hedge fund FTX is appealing a New York district court judge's decision to jail him ahead of his trial scheduled for Oct. 2. This comes roughly a week after his attorneys complained at a hearing that the former billionaire bro is being denied adderall for his ADHD as well as adequately nutritious vegan food behind bars.
"He's literally now subsisting on bread and water and sometimes peanut butter," Bankman-Fried's defense attorney Mark Cohen told a Manhattan federal judge last week. Cohen further complained that SBF is being "served a flesh diet," AKA, meat. The judge, Magistrate Judge Sarah Netburn, offered to look into the situation involving Bankman-Fried's medications and diet and suggested that, for the interim, SBF should consider the vegetarian options available at the Metropolitan Detention Center where he's being kept.
Bankman-Fried currently faces charges of wire fraud, conspiracy to commit wire fraud, conspiracy to commit commodities fraud, conspiracy to commit securities fraud, conspiracy to commit money laundering, and conspiracy to defraud the Federal Election Commission, for his role in FTX's demise, which resulted in financial ruin for investors and clients last fall. Earlier this month, US District Judge Lewis Kaplan sided with federal prosecutors and revoked Bankman-Friedman's bail after he shared letters from his ex-lover and business associate Caroline Ellison with a New York Times reporter, which a judge determined to be witness tampering. Ellison, who was one of several members of SBF's inner circle who pleaded guilty to fraud last December, is expected to testify against Bankman-Fried at his October trial. The letters Bankman-Fried leaked allude heavily to their romantic relationship and how it injected a significant dose of drama into their day-to-day work.
On Monday, Reuters reported that Bankman-Fried's lawyers are contesting the witness tampering charge, claiming he shared the letters not to intimidate Ellison but to defend his reputation, though it's not clear exactly how anything he shared exonerates him.
"It is unclear how a cooperating witness who has promised to testify against a defendant could be meaningfully threatened by nothing but their own statements being published by a reputable newspaper," Bankman-Fried's lawyers wrote to Kaplan. His legal team also claimed Bankman-Fried is being denied the opportunity to adequately prepare for the trial while behind bars.
SBF's jailing this month comes after the 31-year-old was first apprehended in the Bahamas last December, when the charges against him were first brought forth. When extradited to the U.S., Bankman-Fried paid $250 million to be out on bail—until earlier this month, when he was denied that right for alleged witness tampering.
In FTX's heyday under Bankman-Fried's leadership, he forged partnerships with stars like now-divorced Tom Brady and Gisele Bündchen and led the company to its peak $32 billion valuation. By November 2022, put in the simplest terms, FTX crashed as a result of its lack of liquidity and severe, likely illegal mismanagement of funds that seemingly wiped out billions from investors and clients overnight. In the fallout, as clients rushed to withdraw their money from the company, the value of FTX's crypto token—FTT—further plummeted, decimating the value of even rival coins like Bitcoin and Ethereum in the process.
Which… brings us to today. Look, I'm no expert at any of this, and no amount of money in the world could convince me to become one. But I will say, from the start, that this particular situation—a socially awkward, disgraced, white male tech bro begging to be released from jail (where he was sent for leaking his ex's love letters) because he needs vegan food and adderall—was the only logical conclusion to our collective crypto nightmare. That, and disgraced "pharma bro" Martin Shkreli weighing in with tips on how SBF can build street cred to survive prison. No notes.