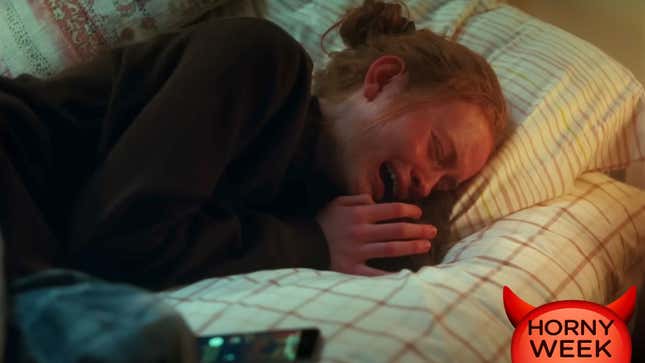 I liked a boy in my first-grade class whose face I remember down to the length of his eyelashes but whose name I've long forgotten. At that age, I assumed when you had a crush on someone they automatically liked you back. (Ah, youth.) I wrote him a note, found a piece of finely wrapped candy, and left both on his desk. I'd written some version of "I like you, do you like me," but because my handwriting was so bad, he had to ask me what it said. Then he told me he did not feel the same and I stormed away.

I remember feeling sad and I remember feeling angry, but mostly, I remember feeling sad—because it kind of felt great. It was like I'd discovered a superpower: I could feel this terrible this deeply? Holy shit.
This is what I imagine my brain, today, looks like on sad music. Except now that I'm older and (at least a little more) sexually literate, the superpower has evolved into something even better: It can get me off! I can only describe the skin-tingling sensations I experience when I hear sad melodies and sad lyrics—like the piano at the beginning of Taylor Swift's "Champagne Problems," the keyboard in Rilo Kiley's "Breakin' Up," or the strum in the Lumineers' "Stubborn Love"; like Lorde singing, "Come home to my heart" in "Supercut" or Bob Dylan rasping, "You could've done better but I don't mind" in "Don't Think Twice, It's All Right"—as horniness.

I've never thought too much about it—just as I once assumed crushes were reciprocal, I assumed everyone felt some version of this. That is until, very recently, when I said "sad music is super horny" to some coworkers, who burst out in a chorus of laughter and questions. Not everyone feels like rubbing one out after listening to "Sleep on the Floor?" News to me.
To be clear, I'm not talking about experiencing heartbreak. I've had two major heartbreaks of note—one made me feel like I was the only person in the world who'd ever felt this type of nerve-shredding pain, and the other turned me into a binge-drinking maniac (she was kind of fun, though). That is not the heartbreak getting me hot and bothered. On the contrary, that type of heartbreak made me wish I'd been born and died a fly.
What type of heartbreak am I talking about? What a great question—one I didn't think I'd ever have to answer until I dared utter the words "sad music hot!" in a room I thought was a safe space! (Don't sex shame your friends!) But here I am, attempting to answer an innately difficult question: Why do I like what I like?
Here's my first attempt: It's an emotional release akin to an orgasm. Feeling so much pain reminds you that you're magically and wondrously alive on this little floating rock amidst an infinite array of stars and supernovas. And feeling that alive when you're not actively trying to survive a heartbreak is great! It's amazing, even! And a much cheaper aphrodisiac than oysters! Mix that in with the sweet, sweet nostalgia that the saddest music also elicits, and honestly, if you're not feeling horny, I feel a non-horny sad for you.
Did you hate that? It's OK, because so did almost everyone else I tried to explain it to. So, in searching for a drop of validation—and to assure myself these emotions weren't masking some deeper sociopathic tendency—I found some people to tell me I was totally normal and cool.
"I don't think you're a sociopath," Dr. Laurie Mintz, a psychologist who's a sexpert for Lelo and author of Becoming Cliterate, told me in a phone interview. "I kind of wondered if there was something in your past, maybe when you were masturbating or aroused when you were younger, or maybe you were having great sex with a partner and sad music was in the background." I told her about my first sexual experience, which was, at best, exciting but frustrating and, at worst, a bit traumatizing. (Saving this story for my memoir but Venmo me $5 and I'll tell you all about it.) The point is that I was listening to a lot of sad, angsty, and "fuck you" music like the Fray, All-American Rejects, and Taylor Swift's debut, while Beyoncé's "Irreplaceable" and Timbaland's "Apologize" ft. OneRepublic were everywhere.
"You could have developed a brain association, if you will, between that type of music and sexual arousal," Mintz said, explaining how the brain is "the biggest sex organ" we know, and besides "releasing a lot of neurochemicals," it determines what specifically our genitals will perk up at. (She also added that anyone who shamed me should examine their own sex positivity!)
This was helpful and reassuring, but still, I felt fairly confident that I'm not the only woman in the world who listened to a lot of angry-sad music as a teen because her first sexual experience was confusing. So, I couldn't help but wonder **types in Carrie Bradshaw voice** were my neurochemicals simply hornier than everyone else's?
Luckily, while the internet is terrible for most things, it's very good for finding things to confirm that your weird shit isn't that weird. "At the biological level, sad music is linked to the hormone prolactin, which is associated with crying and helps to curb grief," reads an article on Psychology Today titled "6 Reasons Why We Enjoy Listening to Sad Music." A quick Google search reveals a bunch of similar articles that agree that loving sad music definitely has something to do with the human milk hormone. None of the articles explicitly mention horniness but, love and sex are a pretty famous duo. (Most articles also disclose that there haven't been any formal studies on this.) "In the absence of a traumatic event, the body is left with a pleasurable mix of opiates with nowhere else to go." I guess my leftover opiates are setting my ​​hypothalamus on fire?
"I thought it was kind of poignant that you're a comedy writer and you're turned on by sadness," Tracy Clark-Flory, a sex journalist, former Jezebel contributor, and author of Want Me: A Sex Writer's Journey Into the Heart of Desire, told me. "I think crying and laughter feel not so unrelated to me—they're both this release of tension." Release! She gets it! We also discussed how it's common to cry after sex, especially partnered sex, so maybe my wires are just a bit crossed. "There's something there around vulnerability and release and surrender that makes total sense."
To make sure I still agreed with myself, I quickly browsed some internet lists of the horniest songs ever to see what the general population was considering "hot." "Climax" by Usher? Cheesy! "Senorita" by Justin Timberlake?!? Wtf. "WAP" by Cardi B? Fun but does not get me wet. "Sex With Me" by Rihanna? Obvious. (Also, "Love on the Brain" is the horniest song on Anti, no question.) "Let's Get It On" by Marvin Gaye? Ooofff. And, "Wouldn't you just have this weird sort of sense of watching yourself doing the thing that you're supposed to do?" Clark-Flory said of Gaye's meant-to-be-horny hit. "That would take me so fully out of the moment."
"Pour Some Sugar on Me" also came up a lot, and to that, I will strongly agree. Actually, if I had to rank the horniest music genres, it would be:
1. Songs that make you so sad you wanna throw up.
2. Raunchy '80s band arena rock.
I either want a sweaty drummer in a ripped muscle tee whipping his mullet in my face, or tears streaming down my cheeks. Do with that what you will.

In conclusion, and in clinical terms, you could say I'm hot for heartbreak because I'm a comedy writer with some eager leftover prolactin and a teenaged association between sex and sadness. Or, you could just respectfully and lovingly mind your own fucking turn-ons <3.

"Hey, it's your turn-ons," Mintz said. "Whatever it is, if it's not hurting anyone and it's consensual, why would you wanna stop doing anything just because other people think it's weird?" Yeah! Why would you?!

The clitoris has, according to recent research, as many as 10,000 nerve endings. If a handful of mine get excited from screaming, "You call me up again just to break me like a promise," then the only thing that should be concerned is my Bellesa Satisfyer vibrator.
Read the rest of Jezebel's Horny Week 2023 stories here.